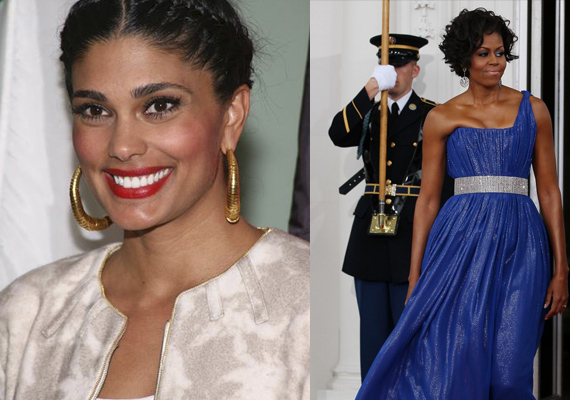 Washington, Feb 23 : Fashion designer Rachel Roy's name graces the list of 23, big-league American fashion designers behind 'Runway to Win', a fund-raising venture directed towards U.S. President Barack Obama's re-election campaign, according to a report in The Wall Street Journal.
Rachel, 38 is of Bengali and Dutch descent. She joins the ranks of powerful batter like Vera Wang and Diane von Furstenberg, creating an exclusive range of limited-edition merchandise, which was unveiled on February 7.
The First Lady normally relies on a bunch of South Asian designers like Naeem Khan and Prabal Gurung but Rachel remains an easy favorite having dressed Mrs. Obama nearly 20 times.

The 23 designers in 'Runway to Win' include Altuzarra, Richard Blanch, Eddie Borgo, Tory Burch, Georgina Chapman & Keren Craig, Sean John, Prabal Gurung, Marc Jacobs, Beyonce & Tina Knowles, Derek Lam, Jack McColloughh & Lazaro Hernandez, Monique Pean, Tracy Reese, Narciso Rodriguez, Rachel Roy, Russell Simmons, Thakoon Panichgul, Grace Tsao-Wu & Laura Kofoid, Diane Von Furstenberg, Marcus Wainwright & David Neville, Alexander Wang, Vera Wang and Jason Wu.
Roy was quoted  as saying "I'm not at all attracted to people who sleepwalk through life. You have to design the life you want to have," as reported by The Wall Street Journal.

It is this statement that she brought to fore in her contribution for Runway to Win- a floaty women's tank top adorned with an American flag and the sentence, 'people who believe that change is possible are the ones who make it happen.'
She was influenced by Gandhian eloquence from a young age and said that "in high-school, I had his quotes on my wall."
The innovative designer is particularly taken with the notion of quiet, dignified action. "Gandhi is the perfect example of being powerful from the inside and that graceful power is one of the most life-changing things," said Roy.


She added that "The more peaceful you are, the more confident you will be.  I love that juxtaposition."

Rachel, a power house of a designer and a single mother of two daughters (Ava, 12, and Tallulah, 3) attempts her inner balancing act, though she modestly calls herself a 'work in progress.'
For instance, last fall as her 12-year-old was in a stint of self-consciousness at school, Roy purposely chose to sport a pair of pajamas to a posh, Hollywood premiere, prompting a blatant buzz across the fashion world.

She said "I told Ava that as long as you believe in something and you feel comfortable, you can do whatever you want. I did it solely for her."
Ever since Rachel launched her self-titled New York based collection in 2005, she garnered instant praise for her feminine yet edgy silhouettes and their versatile ability to cross-over from day to night.
After two years she was appointed into the Council of Fashion Designers of America.

While she gives credit to her  Indian heritage for her commitment to designs that are simultaneously demure and sexy, her androgynous Spring 2012 collection, draws its aesthetic inspiration from a 1992 movie entitled, The Lover, a forbidden romance set against the backdrop of colonial Vietnam. In August she will be launching a footwear line as well.
Rachel epitomizes the self-assured woman she designs for, though she says it's a persona she embraced quite recently.
"I was raised to be a good Indian girl," she says, hinting to her modest, formative years in California, when a copy of Vogue was considered a splurge.
She said that "What I didn't learn till my 30s is that until I take care of myself, I can't take care of others."  "There's beauty in putting other people first. But there has to be a balance," she added.