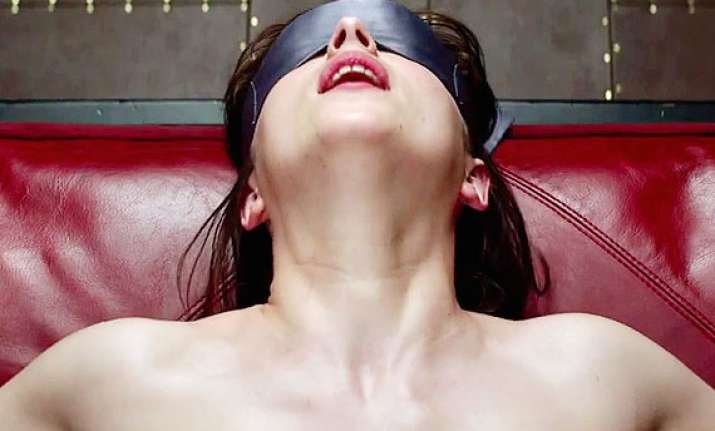 New Delhi: Fifty Shades of Grey is out with its first trailer building quite a dark mystery around the film.
A celluloid adaptation of E L James' best seller of the same name, Fifty Shades of Grey is an erotic drama with the trailer creating the perfect mood of high anticipation for the film.
The trailer opens discovering a suave and intimidating gentleman, Christian Grey, played by Jamie Dornan who has got infatuation for Anastasia Steele, a literature student who turns up in his office to interview him. As she gets in and has her first glance at the man, she couldn't resist but finds him uber tempting and slowly realizes that she wants him.
The trailer steadily touches to the deep dark sexual fantasies of Mr. Grey that he introduces to Anastasia Steele. And as it consummates, you are escorted with the shallow sounds of deep moaning that forces you to give the trailer a definite second watch. 
A story of mystery and a quest of revealing all the hidden sexual desires of wealthy Mr. Christian Grey, 'Fifty Shades of Grey' successfully intrigues the audience. The trailer also evenly unwraps how the pretty-innocent Ana becomes a soft target of a man who surely loves him but in his own ways.
The music of the film is intense which seems aptly justifying the broad mysterious chord of the film. Fifty Shades of Grey is love, romance, erotica, mystery and drama rolled with the efforts of a good star cast and what seems as a brilliant direction.
Dakota Johnson initially resembles Anne Hathway's innocence and at a point of time, you get this irk of seeing James Scott (EJ Di Mera) as Christian Grey. But nevertheless, the screenplay and the tempting aura of the film leave you in splits.
Directed by Sam Taylor-Johnson, and produced by Michael De Luca, Dana Brunetti and E. L. James; Fifty shades of Grey stars James Dornan and Dakota Johnson in lead roles.
 Watch the trailer here…    
Overall, Fifty Shades of Grey is arousing, enticing and mystifying too. A sure shot entertainer is going to hit the screens the coming Valentines' Day, but beware and don't compare it with the book.
We bet you'll watch this trailer of 'Fifty Shades of Grey' more than once.