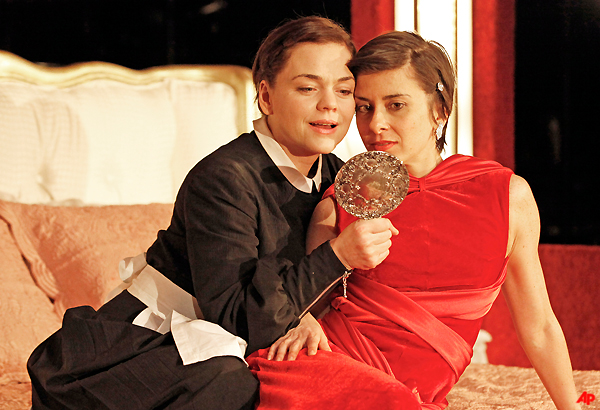 New York, Mar 16: If you aren't happy with your employer, why not just kill her? Such was the twisted thinking of the unhappy servant sisters presented in Jean Genet's 1947 absurdist play, "The Maids," in which two sadistic, unstable women repeatedly and joyfully act out their grotesque, mistress-murdering fantasies.

The mind-twisting Red Bull production, which opened Thursday night off-Broadway at the Theatre at St. Clements, is a crackling, suspenseful explosion of well-controlled debauchery. The power struggles and constant role-shifting between the two maids are rapid-fire and impressively handled.

Under Jesse Berger's inspired direction, Ana Reeder as Solange and Jeanine Serralles as Claire are like barely caged wild animals, circling around Madame's sumptuous bedroom in her absence, repeatedly play-acting their delusional fantasies about how to kill her.

Taking turns wearing her most expensive gowns, they leap onto furniture and launch into near-hysterical tirades one minute, then quickly switch identities, acting as one another or taking over the commanding, insulting role of their mistress. Occasionally they scurry around in real-life panicky, abject servant mode when they think she's returning home. It evolves that they've connived to get Madame's lover arrested, but it appears their role will be uncovered, hence their current rising hysteria.

The audience is ranged along both sides of the set, making us voyeurs peering through long, horizontal bedroom windows at Dane Laffrey's plush, elegant, yet claustrophobic set. Inspired by a 1933 murder in France when two maids brutally killed their employers, Genet wanted to make the audience uncomfortable, and the Red Bull production succeeds admirably, enthusiastically presenting the immorality and perversity of the servants.

Reeder and Serralles create an undercurrent of incestuousness beneath their characters' despair at their intolerable lives, and both are poignant in their misery and grandly imperious in their malevolent delusions. Reeder is especially riveting in a lengthy soliloquy near the end, imagining herself calmly dealing with the police after she murders Madame.

Some of the tension is temporarily relieved midway through with a brief appearance by the real Madame. J. Smith-Cameron gives an elegant performance as the maids' unwary mistress, cleverly finding some much-needed humor in her shading of that selfish, entitled employer.

Unaware of the irony, Madame notes that the maids have "filled her room with funeral flowers," and says playfully, "You're trying to kill me with your tea and your flowers and your suggestions." Since the audience knows the tea contains phenobarbital, the tension ratchets right back up again.

Red Bull's creative and production teams have created a sharp, edgy version of Genet's inverse morality play, which makes for a great evening of theater.