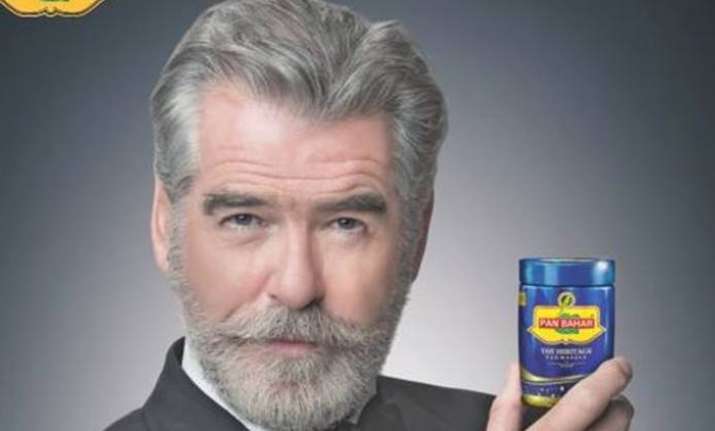 Hollywood star Pierce Brosnan, who lately made it to the headlines for endorsing Pan Bahar, stated that he is distressed over the unauthorised and deceptive use of his image as the brand ambassador of the masala products.
The actor claimed that he had signed the contract for endorsing just one product for Pan Bahar, which was said to be a breath freshener/tooth whitener with all natural ingredients and didn't contain tobacco, supari or any other harmful ingredient.
Brosnan said that Pan Bahar has violated the contract and his is deeply appalled and saddened by the recent controversy.
He also accused the brand owners for falsely presenting him as the face of the entire range of Pan Bahar products. The actor has also reportedly asked Pan Bahar to remove his image from its product line.  
During an interview to a leading daily, Pierce Brosnan conveyed his heartfelt apologies about the entire controversy and stated that being a victim of cancer losses in his own life he would never promote such a product.
The Hollywood actor has lost his first wife, daughter and several friends to cancer and has been actively participating in women's health and environmental protection programmes.
"I am fully committed to supporting women's healthcare and research programs that improve human health and alleviate suffering", he said.
Brosnan further asserted that if he was aware about what he was selling, he would have never signed to agreement to promote such a product in India which could be dangerous to one's health.
Pan Bahar had released its recent advertisement featuring the Hollywood star promoting the product with the tag line 'class never goes out of style'. The advertisement had taken the social media by storm, with Twitterati berserk over Brosnan choice of endorsement.
Not just he was mocked about endorsing a pan masala, but several jokes about Pierce Brosnan also did the rounds on social media.