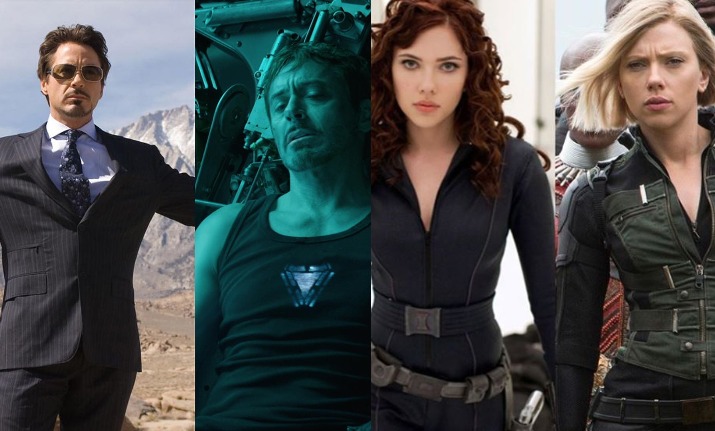 Isn't it an emotional moment for all of us to see a 10-year-younger version of ourselves and ponder about how things change? Likewise, a challenge is going viral on the internet (not like KeKe Challenge) that's leaving the internet emotional as well amused. The social media users are sharing their 10-year-old pictures on the social media with their present one placed beside it. Even the Bollywood as well as Hollywood celebrities took up the challenge and made headlines. But when Marvel Studios, who are gearing up for three big releases this year, took up the challenge, the result was rather an emotional one. The official Instagram page of the studio shared 10-year-old pictures of the Avengers' characters and leaves everybody heartbroken.
The reason why everyone is emotional is the first picture of the series- of Tony Stark. In the 10-year-old version of himself, Tony is seen all suited up, bearing the same-old Stark-ish panache. In the present-day picture, he's lying famished and thirsty on a stranded spaceship, counting his breaths.
The next to come in the series is heartthrob Thor (God of Thunder) who's mane has gone from lob to trimmed and blonde to black. Though the charm remains the same, but Thanos snap has definitely taken the happy glow away from his face. (Sad, isn't it?)
Captain America aka Chris Evans manages to remain the same throughout the years. After all, Steve Rogers have survived nearly a century, what difference does 10 year make to him?
Scarlett Johansson aka Black Widow is pretty much the same; she's extraordinarily beautiful. Though, her mane are cut short.
The rest in the series are Nick Fury, Phil Coulson (another emotional picture), Hawkeye. The studios have omitted Spider-Man from the list, which many of the netizens have pointed out in the comment section.
On a related note, Avengers: Endgame is slated to release in April this year. So are you ready?