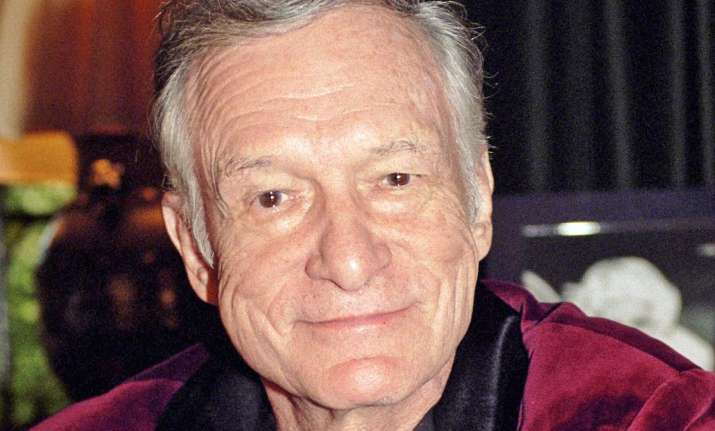 The founder of Playboy magazine, Hugh Hefner, passes away at age of 91. The announcement was made by Playboy Enterprises. The information was shared on social media.
The statement of Playboy Enterprises, Inc. reads, "Hugh M. Hefner, the American icon who in 1953 introduced the world to Playboy magazine and built the company into one of the most recognizable American global brands in history, peacefully passed away today from natural causes at his home, The Playboy Mansion, surrounded by loved ones. He was 91 years old."
Hefner died of natural causes at his home surrounded by family on Wednesday night, Playboy said in a statement.
As much as anyone, Hefner helped slip sex out of the confines of plain brown wrappers and into mainstream conversation.
In 1953, a time when states could legally ban contraceptives, when the word "pregnant" was not allowed on "I Love Lucy," Hefner published the first issue of Playboy, featuring naked photos of Marilyn Monroe (taken years earlier) and an editorial promise of "humor, sophistication and spice." The Great Depression and World War II were over and America was ready to get undressed.
Playboy soon became forbidden fruit for teenagers and a bible for men with time and money, primed for the magazine's prescribed evenings of dimmed lights, hard drinks, soft jazz, deep thoughts and deeper desires. Within a year, circulation neared 200,000. Within five years, it had topped 1 million.
By the 1970s, the magazine had more than 7 million readers and had inspired such raunchier imitations as Penthouse and Hustler. Competition and the internet reduced circulation to less than 3 million by the 21st century, and the number of issues published annually was cut from 12 to 11. In 2015, Playboy ceased publishing images of naked women, citing the proliferation of nudity on the internet.
But Hefner and Playboy remained brand names worldwide.
Asked by The New York Times in 1992 of what he was proudest, Hefner responded: "That I changed attitudes toward sex. That nice people can live together now. That I decontaminated the notion of premarital sex. That gives me great satisfaction."
Hefner ran Playboy from his elaborate mansions, first in Chicago and then in Los Angeles, and became the flamboyant symbol of the lifestyle he espoused. For decades he was the pipe-smoking, silk-pajama-wearing center of a constant party with celebrities and Playboy models. By his own account, Hefner had sex with more than a thousand women, including many pictured in his magazine. One of rock n' roll's most decadent tours, the Rolling Stones shows of 1972, featured a stop at the Hefner mansion.
(With AP Inputs)