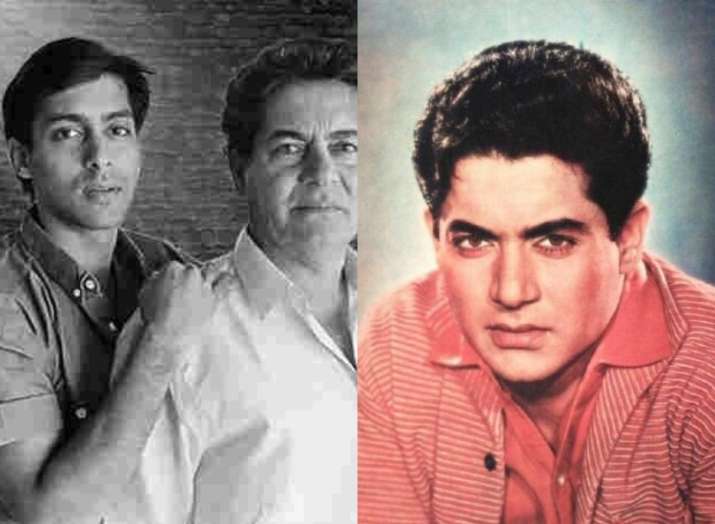 There is no denying that Superstar Salman Khan is a complete family man. He loves his family more than anything in the world. While fans are already head over heels crazy in love with Salman's father Salim Khan's good looks and personality, the actor himself showered his appreciation on the Senior Khan in his latest post.
Dabangg Salman Khan took to Twitter and shared a  picture of his Salim Khan from his younger days. Salman captioned the image as, "My daddy the hamsommest !" While it is hard to take eyes off the handsome Salim Khan, one cannot ignore the striking resemblance both father-son share. Looking at the picture, we know where Salman has got his good looks from!
My daddy the hamsommest ! pic.twitter.com/OvVsKpuFcb

— Salman Khan (@BeingSalmanKhan) August 7, 2018
Fans have always seen Salman and his father's fantastic camaraderie in many interviews earlier. Even when Salman has earned a grand status for himself, he still bows down in front of his father and goes to him for advice. Salman even revealed, "My father gave me a clear-cut instruction when it came to girlfriends. He gave us the permission to spend time at home rather than roaming around the city."
Talking about Salman Khan's filmy career, the actor is gearing up for his next film Bharat alongside Katrina Kaif and Disha Patani. Salman also shared a picture of himself which was proof that he is training hard for his role in Ali Abbas Zafar's Bharat.
The moment Salman Khan shared the picture of his father Salim Khan, Twitterati went down the memory lane and came up with more picture of the father-son together.
Fitness Motivation like dad like son

Jeete Hai Shaan se #SalmanKhan Fan ke naam se

We Luv u @BeingSalmanKhan Till Our Lst Brth

JAI SALMAN KHAN pic.twitter.com/zUwx4L9fOD

— SHAHID Sᴀʟᴍᴀɴɪsᴛᴀɴ (@SSALMANISTAN) August 7, 2018
Ur Dad is Strongest too 💪💪

Jeete Hai Shaan se #SalmanKhan Fan ke naam se

We Luv u @BeingSalmanKhan Till Our Lst Brth pic.twitter.com/serv1MBHaH

— SHAHID Sᴀʟᴍᴀɴɪsᴛᴀɴ (@SSALMANISTAN) August 7, 2018
Like Father like son Most Charming 😘😘

Jeete Hai Shaan se #SalmanKhan Fan ke naam se

We Luv u @BeingSalmanKhan Till Our Lst Brth pic.twitter.com/kX9mV26FG0

— SHAHID Sᴀʟᴍᴀɴɪsᴛᴀɴ (@SSALMANISTAN) August 7, 2018
The best Family person like dad like son

Jeete Hai Shaan se #SalmanKhan Fan ke naam se

We Luv u @BeingSalmanKhan Till Our Lst Brth

JAI SALMAN KHAN pic.twitter.com/ZPxOlwbtKZ

— SHAHID Sᴀʟᴍᴀɴɪsᴛᴀɴ (@SSALMANISTAN) August 7, 2018
On the related note:
Salman Khan finally reacts on Priyanka Chopra's exit from Bharat and it will leave you confused
Salman Khan starrer Bharat wraps up first schedule, all set for Malta
Ahil Sharma imitates Salman Khan at Loveratri trailer launch. Check out their adorable moments