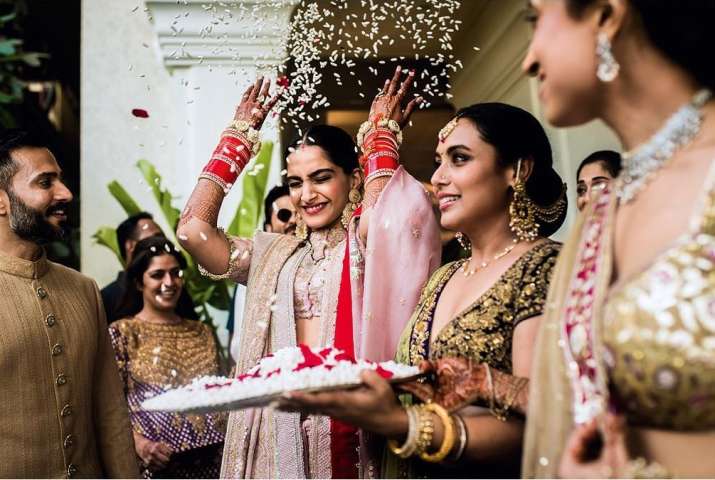 Sonam Kapoor and Anand Ahuja got hitched in what we call a fairytale wedding in May this year. It's been more than a month and the actress seems to be still living her post-marital bliss. There frequent PDA's on the social media convinces us why they're probably one of the best couples in the Bollywood. Anand Ahuja is not the part of industry Sonam deals with, but he clearly understands what her work demands her to do. Who says that? Well, his wife Sonam Kapoor herself does. In her recent Instagram post, the Veere Di Wedding actress shared a visual delight with us. It's a throwback and unseen picture from her wedding. However, it's the caption that caught hold of most of our attention.
She wrote, ""Anand is so encouraging when it comes to my work that he didn't blink when I told him I was flying to Cannes two days after the wedding or that I was getting into promotions straightaway. There was no argument, just acceptance—you gotta do what you gotta do."
Sonam Kapoor shared these inside details of her chemistry with Anand Ahuja while speaking to Vogue India magazine.
Anand Ahuja on the other hand recalls how he first chatted with Sonam Kapoor on Snapchat without even knowing that she and Anil Kapoor were related. He said, "The first time we met, we talked about our respective work. I was just struck by the fact that I could speak to her so openly about everything. We were chatting on Snapchat one night and she said, 'Stop texting, just call me.' And we spoke for two hours that night… Our friendship started over superficial things like vegan chocolates and sneakers but soon we were having deeper conversations."
Another interesting detail Sonam's conversation with Vogue revealed that Anand Ahuja can't wear his wedding ring all the time. Since Anand plays basketball, he can't wear rings. So, a New York-based tattoo artist got him a version of the wedding ring as a tattoo on his finger. That ring tattoo is visible in this picture Sonam shared on her Instagram.
Singing praises for his wife Sonam, Anand Ahuja wrote, "She gives me a lot of confidence. Sonam's very black and white. She knows what's wrong and what's right and is not afraid to say it. I can see both sides of a story, but I often get stuck in the grey zone. I sometimes need to be able to say no, and Sonam gives me the confidence to do that, she supports me. She's intuitive and patient, I second-guess."
Sonam Kapoor and Anand Ahuja's wedding was one of the biggest surprise for Bollywood lovers after Anushka-Virat wedding. Everybody knew that her wedding was on cards, but the announcement that came from Kapoor and Ahuja family, took everyone by surprise.
Also Read: Watch: Sonam Kapoor singing Abhi Na Jao Chhod Kar for Anand Ahuja proves she is die-hard romantic
On the work front, Sonam Kapoor will be next seen in Ek Ladki Ko Dekha Toh Aisa Laga with her father Anil Kapoor and Rajkummar Rao.