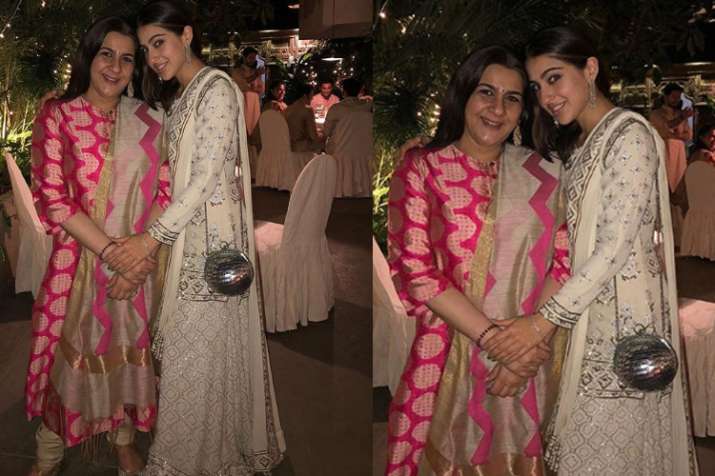 Ex-couple Saif Ali Khan and Amrita Singh's daughter Sara Ali Khan made her Bollywood debut recently with Abhishek Kapoor's film Kedarnath alongside Sushant Singh Rajput. Sara continued to win hearts in her second film Simmba which was alongside Ranveer Singh. Sara is just two films old and has succeeded in making a mark in the industry with her acting skills. 
On the personal front, Sara shares a good bond with her stepmother Kareena Kapoor Khan and she recently opened up about it in an interview on chat show Famously Filmfare. Sara said that she has always been a big fan of Kareena and her character Poo. While talking to the interviewer, Sara asks him to repeat it again that 'Poo is your stepmother.' "Can you imagine! Say that again!...Yaa!! I do." Sara further added, "People tell me you've willed this to happen. You have been such a die-hard Kareena fan that you have willed her into your life and this is what you get."
And talking about her mother Amrita, Sara said that she was she was incredibly cool for her time. During an interaction on Famously Filmfare Season 2, she said, "The truth be told, the mother in her wakes up very often. Because suddenly with me, there is this, 'You can't do this.' I could have done it, but you can't do it. She also has a point. But she was incredibly cool for her time. To be honest, this is something she tells me very often. One could get away with a lot more back then, then you do now.' Mom could say something and get away with it because 5 people would laugh about it like twice a year. But now, it will be like, headlines. 'Says wrong thing!' See, I am being so good. I am not even giving an example of what it could be. But again and again, then everywhere there is this 'Says wrong things! Says wrong things!' You don't want that. You don't need that, I feel."