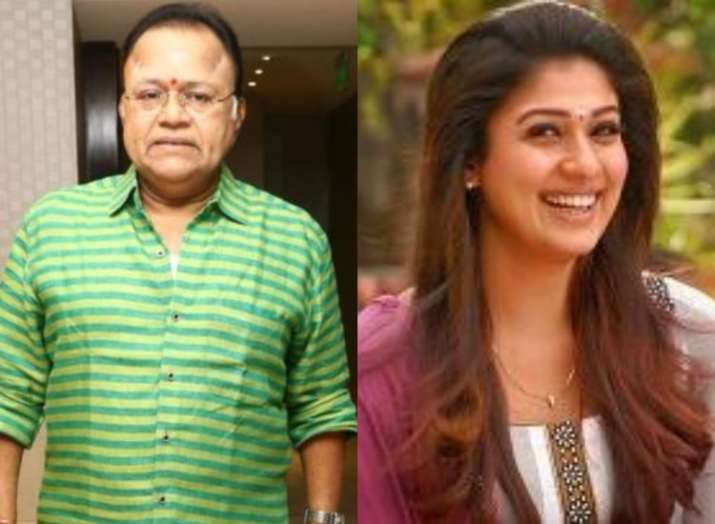 Veteran Tamil actor Radha Ravi is yet again ruling the headlines after he shamed lady superstar Nayanthara in his speech at an event recently. At the press meet of Nayanthara starrer Kolayuthir Kaalam, Radha Ravi spoke about the actress not attending promotional events and his misogynistic comments caught everyone's eye. A video of him slamming the actress is doing rounds on the internet in which the veteran actor speaks about how the actress gets paid for the film but doesn't promote her own film.
India Today quoted Radha Ravi saying, "Nayanthara is a star now and she's hailed as Lady Superstar. Some even compared her to Puratchi Thalaivar MGR and Nadigar Thilagam Sivaji Ganesan. They're immortals and it is disheartening to see people include Nayanthara in the list. I agree that Nayanthara is a good actress and she is sustaining in the industry for several years. There have been several reports about her, yet she stands tall. Tamil Nadu people remember anything only for four days, then they forget. Now, she is a known face. She can act as a ghost and as Goddess Sita as well. Back in those days, if filmmakers have a Goddess character in the film, they'd go for veteran actress KR Vijaya. But now, anybody can play the role. Paatha udane kumbudravangalayum podalam, paatha udane koopadravangalyum podalam (We can cast those who are respected and those who sleep around)."
#Radharavi on stage#KolaiyuthirKaalam Trailer launch #Nayanthara#KolaiyuthirKaalam #KolaiyuthirKaalamTrailer @EtceteraEntert1 @DoneChannel1 @rajshriofficial @thisisysr pic.twitter.com/u21PLfkuFN

— PRO Thiyagu (@PROThiyagu) March 23, 2019
The actor also made some shocking remarks in which he spoke about a agreement that allows the hero to touch the actress in any way and the audience surprisingly clapped and lauded after his speech. He said, "Nayanthara, of late, acts in horror films. If the ghosts see her in person, they'll run away. I also advised Mathi (Kolayuthir Kaalam's producer and Radha Ravi's son-in-law) to get agreements from artists that they'll attend promotions. Also, another agreement that states that the hero will touch the heroine in any way during a film's shooting and that the latter shouldn't make a big deal of it later."
His speech didn't do down well with Nayanthara's boyfriend and filmmaker Vignesh Shivan who decided to speak on Radha Ravi's derogatory remarks. He slammed the actor left, right and center saying how jobless Radha Ravi is. 
Check out the tweets here-
Clueless and helpless cos no one will support or do anything or take any action against that filthy piece of shit coming from a legendary family .. he keeps doing this to seek attention! Brainless !
Sad to see audience laughing& clapping for his filthy comments!
None of us

— Vignesh Shivan (@VigneshShivN) March 24, 2019
None of us had any idea that this event was going to take place for an incomplete film .. the actual producers or directors left the film few years back I guess! Inappropriate event wit unnecessary people sitting and knowing not what to speak ! If this is called promoting a movie

— Vignesh Shivan (@VigneshShivN) March 24, 2019
Then it's good to stay away from such events which don't have any need but jus to give opportunities like this for jobless people to vomit 🤮 some senseless , useless stuff on stage !
Anyways no one from Nadigar sangam or any sangam will take any action against him #Sad #state

— Vignesh Shivan (@VigneshShivN) March 24, 2019
Disgusting to say the name .... ! But is that the problem now ??? Why do u guys always look into different angles to irritate the victims or the hurt ones ? Poor mindset ! Chaiii!!! #RadhaRavi RadhaRavi RadhaRavi .. now ok ? What r u doing to do now ?

— Vignesh Shivan (@VigneshShivN) March 24, 2019
More Bollywood stories and picture galleries
For all latest news and updates, stay tuned to our Facebook page