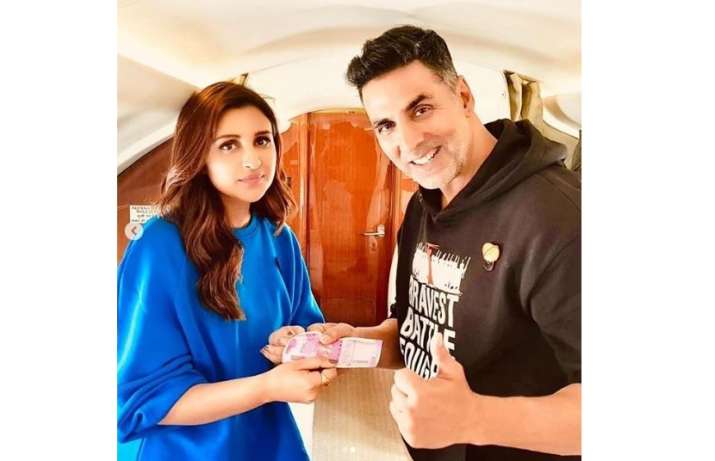 Parineeti Chopra has that signature face of defeat in this latest picture shared by the Kesari actress on her social media. In the picture, that has now gone viral, Parineeti is handing over a crisp Rs 2000 currency note to her co-star Akshay Kumar. Kumar, on the other hand, looks victorious. Not that Rs 2000 is a big amount for him, but the look of triumph is evident on his face. This left fans wondering what did Parineeti do to owe him money. She explained that Akshay Kumar is a pro at card games and losing multiple rounds to him left Parineeti indebted with Rs 2000. When Akshay playfully told a newspaper that the actress has not paid him any money that she still owes him, Parineeti had to do what she did.
Parineeti Chopra shared a snapshot of a newspaper article that quotes Akshay Kumar and the actress herself. She told the leading daily, "I have lost so much money to him that I can't even tell anyone about it. He is so good at the game that it is almost impossible for him to lose."
To this Akshay Kumar quipped, "She keeps saying that she has lost money to me but till date, she hasn't paid a penny to me!"
In the next picture, Parineeti Chopra is clicked paying money to her Kesari co-star Akshay Kumar. The look on his face is priceless.
Akshay Kumar is quite a mischievous actor on the film sets. Earlier, he used to prank Radhika Apte on the sets of Pad Man and Mouni Roy on the sets of Gold. Both the actress told their stories to the media during the film promotions.
Talking about the film Kesari, it is a period drama based on the Battle of Saragarhi fought between 21 Sikh soldiers and 10,000 Afghan invaders. It is scheduled to release on March 21.