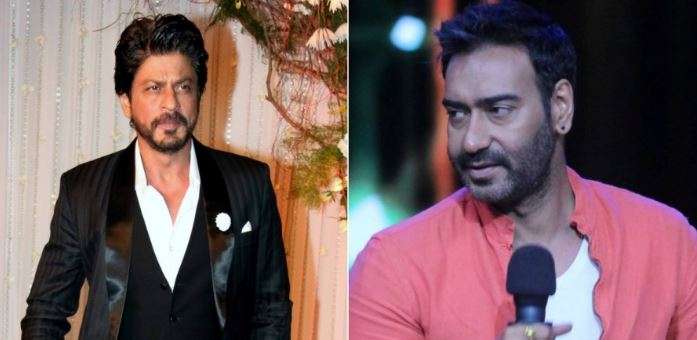 Ajay Devgn in a promotional interview of his forthcoming film De De Pyaar De kept forward his take on movie ratings by critics. Recently, superstar Shah Rukh Khan asked critics to stop giving stars to the movies. He called them out and asked critics to stop treating a film as a hotel service. For unversed, Shah Rukh's last film Zero didn't receive good ratings from critics.
Taking center stage at the first Critics Film Choice Awards 2019, SRK had said, ''We as a film fraternity have to be truer to ourselves, to the stories we set out to tell. So I request all my critics friends here, please don't be like us Bollywood film stars, and get carried away by what Bollywood succumbed to many years ago - the star system. The star system cannot be the only way of summing up films by our critics. 3 stars, 3.5 stars, 3 and a quarter stars, 5 stars....It's a film, not a hotel for God sake. With critics sprouting all over, film critic is becoming an endangered species. Please let it not get replaced by consumer service''. While the actor was quite honest in his opinions, De De Pyaar De actor felt that his take doesn't matter. 
As per Times Now report, Ajay Devgn, who is actor-producer felt that there's no use of his opinion as it won't make much difference. However, at the last, he added that word of mouth matters at last. When asked about the movie rating system, the actor said, ''Oh it doesn't matter what my take is. Is it going to change? You assure me whatever my take is you will change accordingly (laughs)."
Rakul Preet Singh, who plays Ajay's love interest in the flick added, "But I think you know what, if it's a good film, people come and watch, people have a mind of their own. There are some films, we have seen so many examples, at least I feel that even if it's not reviewed well, the film does the numbers. So it's about what audiences want and like...''. Ajay was quick enough to point out, "Total Dhamaal...1.5 stars". Rakul then further added, "Ya so it's the word of mouth that really matters. There are films which get amazing critic reviews but people don't go to the theaters.So I think what the audiences like...the word of mouth is the last thing."
Akiv Ali directorial De De Pyaar De, which also stars Tabu and Jimmy Shergill is all set to hit the screens on May 17.