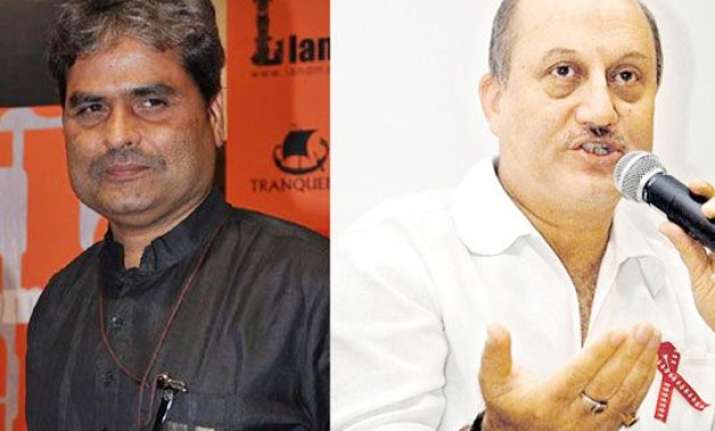 New Delhi: Filmmaker Vishal Bhardwaj who is on cloud nine after the announcement of National Award has got the backlash for his statement he made about Kashmiri Pandits.  
Vishal Bhardwaj who called a press conference yesterday to talk about his win at National Award this year received flak for dedicating his National Film Award to the Kashmiri Pandits.
During the press conference, Vishal Bhardwaj, was asked about skipping the Kashmiri Pandit genocide in 'Haider'. To which, Vishal commented, "The Kashmiri Pandit Genocide was a terrible tragedy. I did not add that part to the film because I felt it would do injustice to the people, we should make another movie on it. I would also like to dedicate the five awards to them."
This statement by Vishal Bhardwaj hasn't been received well in the industry, as veteran actor Anupam Kher has expressed his displeasure over it on Twitter. "While I congratulate Vishal Bhardwaj for National Awards but dedicating them to #KashmiriPandits genocide is such a fraudish thing to do. When was last time Vishal Bhardwaj spoke about d plight of #KashmiriPandits? He in fact humiliated us by doing dance of devil at our temple."
Vishal Bhardwaj won the Best Music Director Award for 'Haider'. The film that starred Shahid Kapoor, Shraddha Kapoor, Tabu and Kay Kay Menon did well at the box office and was critically acclaimed.