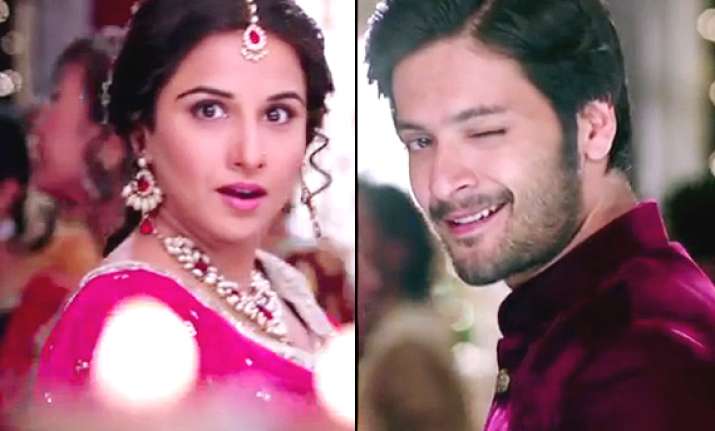 New Delhi: Vidya Balan's 'Bobby Jassoos' is out with the latest song titled 'Sweety.' A catchy creation composed by Shantanu Moitra has Vidya Balan and the male lead of Bobby Jasoos, Ali Fazal dancing and romancing in the song.
'Sweety' seems to be another peppy wedding song and the latest after 'Hasee Toh Phasee' 'Punjabi Wedding song.'
Vidya who doesn't seem to be impressive enough while dancing manages to cover that up with her completely exquisite expressions. Bobby looks poised, elegant and head-to-toe graceful in the song, undoubtedly.
Ali Fazal, who was last applauded for his performance in 'Fukrey' appears energetic and surely fills enough hues in the song. The USP of the song still remains Vidya with her marvelous on screen persona.
Sung by Monali Thakur and Aishwarya Nigam and penned down by Swanand Kirkire, 'Sweety' definitely makes you tap your feet to it. The song that comes straight to your ears and fills your wit but not for long, Sweety is enthralling, entertaining but not something we haven't heard before.
Vidya and Ali make a fine pair but that would be after the release of 'Bobby Jasoos' to decide whether their chemistry clicks or not!
Over all, Sweety has the potential to crawl on the chartbusters list and Vidya's quintessential desi charm is more-than-enough to intrigue you.
Enjoy the newly out song 'Sweety' from Vidya Balan's 'Bobby Jasoos' here…     
Bobby Jasoos seems to be a great product, straight out of Dia Mirza's lovable efforts and Vidya perfectly justifies herself in the songs so far.
Super energetic, spilling colours around, fearless, grounded and at the same time a doting daughter and definitely a mesmerizing lover; 'Sweety' shows Vidya in every form.