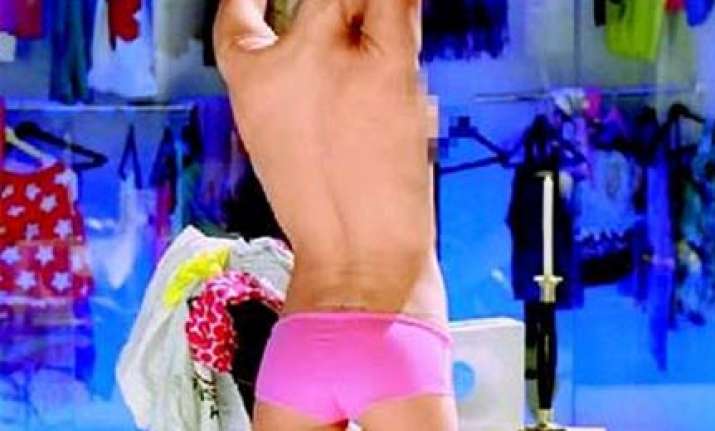 Bollywood producer Mahesh Bhatt had a showdown with the Censor Board recently over removing a certain topless scene in the film Crook.
When asked to delete the nude scene from Crook, the makers threw a fit. But the Censors didn't budge. The film had to make do with an 'A' certificate, says a media report.  
Mahesh Bhatt was told that if he wanted a U/A certificate for Crook, he would have to edit out a scene with a topless woman in it. Alternatively, he could keep the scene and have his film get an 'A' certificate. Bhatt chose the latter.  
Though the director of the film, Mohit Suri, tried to convince him otherwise, Bhatt insisted that the film be released as 'Adults Only'.
Last Tuesday saw a major showdown at the Censor screening of Crook, which was attended by Mohit Suri and Mukesh Bhatt.  
An actress called Shella Alan has performed the topless scene in question, which was shot in Australia.  
Says a source, "In the film, Emraan Hashmi (the male lead in Crook) gets drunk and passes out in Shella's car. He wakes up in her bed, and when he comes out from the washroom he sees her changing her clothes, with her back to him."  
According to the source, Mahesh questioned the Censor Board's decision to allow frontal nudity in films like Ram Teri Ganga Maili, whereas his film shows side nudity only.  
The Censor members found this argument bordering on blasphemy and completely disagreed with it.  
Mohit Suri and Mukesh Bhatt then called up Mahesh Bhatt, who told him in no uncertain terms that the scene couldn't be done away with under any circumstances.  
Turns out, Shella had no issues in doing the topless scene.  
Reveals Mohit Suri, "I asked her if she wanted to wear a body suit but she said she was fine without it. I understood Bhatt saab's perspective. I wanted a U/A but we are fine."  
Bhatt admitted to having had an argument with Suri but said, "It's okay. I was not ready to eliminate that scene. I see nothing wrong in it. There are three reasons why I was so possessive about the scene. One, it is relevant to the film. Two, it creates a dramatic impact. Three, the audience today largely comprises of the young generation who want certain sensationalism and not the so-called purists."