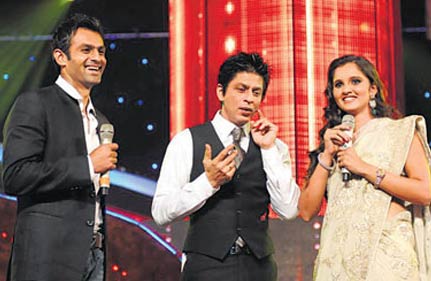 Mumbai: Tennis star Sania Mirza insisted that Shah Rukh teach her shy husband Shoaib Malik some romantic lines at the recent Sahara sports award function, reports MidDay.
"Shah Rukh's strength is the way he talks and he also romances in a very charming way in his films.
So, I asked him to share some tips with Shoaib and teach him a few romantic lines so he would talk more. It was all done in good humour and Shah Rukh was pulling our leg all through the act," said Sania.
Shah Rukh also made Sania and Shoaib shake a leg with him at the function.
An eyewitness present at the awards function said that for the first time after their wedding, Sania and Shoaib were seen together at an awards function. 
"Shah Rukh,  known for his sense of humour, was anchoring the show with Sania. In an impromptu question and answer session, SRK asked Sania about their marriage, romance and kids," he said.
SRK also tried to get Sania and Shoaib's love story out of Shoaib's mouth but Shoaib refused to divulge any details.
"All Shoaib said was that theirs was an ideal example of 'love at first sight' where he proposed to Sania and she instantly agreed," said the eyewitness.
Sania said that Shoaib talks very little and believes that true love doesn't need any expression.
Shah Rukh called Shoaib on stage and asked him to repeat some romantic dialogues as Sania had insisted.
"I have known Shah Rukh from a long time. Both Shoaib and I watch his films. The three of us danced on a song from Veer Zaara," said Sania.
She said that the Sahara India Sports Awards was a whole new experience for her. "This is the first time I hosted a sports awards and it was great fun.
There was an act where I had to hit a tennis ball with a cricket bat in Shoaib's direction as he was sitting there. 
A day before the show, during the rehearsals, the act wasn't coming out well and I thought that I might make a fool of myself at the show, but luckily, I managed to pull it off and everything went smoothly."