Follow us on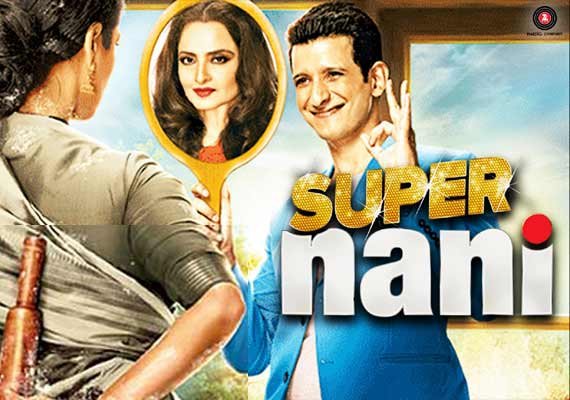 With due respect to all the nannies, dadis, mummies and all avatars of a woman, Super Nani is a bad ode to the neglected female fraternity trapped in the four walls of a kitchen in the house. Super Nani should have been upgraded from the late 80's and 90's formula of making films to realize the importance of women in our society.
Stars- *
Stars- Rekha, Sharman Joshi, Randhir Kapoor, Shweta Kumar, Anupam Kher, Rajesh Kumar
Director- Indra Kumar
Music director- Harshit Saxena, Sanjeev-Darshan
Indra Kumar who in recent years has directed comedies like Grand Masti, Dhamaal among others goes decades back when he made Beta and brings back the plot, which in that era was in trend. But keeping the similar plot and executing it with the same approach today couldn't help Super Nani to register itself in our hearts and wits of the viewers.
The movie opens with Bharti Bhatia (Rekha) doing all sorts of work in home alongside pampering her kids and grand children. She loves to perform work with pleasure and equally loves her family. But all her care and hardwork is taken for granted and Bharti feels deeply hurt with it. Enters Mann Mehra (Sharman Joshi), Bharti's New York City returned grand child. He realizes the abuse and insult through which his Nani is going through. How will Mann help her out and make the family realize the value of a lady who gave her entire life nourishing them?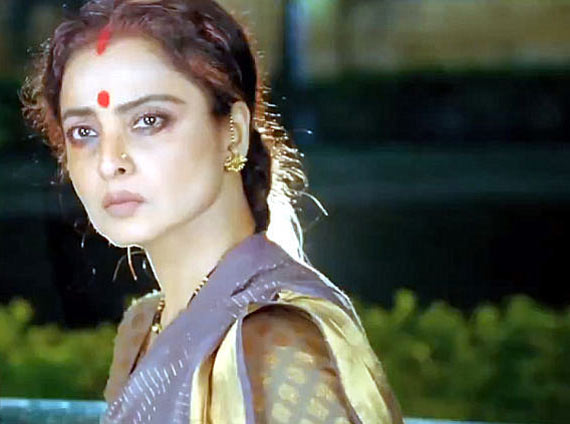 Indra Kumar's 'Super Nani' is made with lot of heart and emotions but despite its strong subject it hardly touches our soul. The movie's biggest weakness is its predictability and over melodrama, which may have worked commercially two decades back alongside other family dramas which were mostly served by Bollywood but not today. It's not that the Indian cinema in recent years hasn't touched the delicate issue. Big B-Hema Malini's 'Bhaghban' and Sridevi's 'English Vinglish' are an epic example set to treat parents and women. We got the message and appreciated it.
The problem in 'Super Nani' is that it's too old-fashioned. It lacks standards and finesse which aforesaid flicks were filled with efficiency. The entire film looks like a stage show or theatre drama with too much of moral over how to respect women thrown in. And we as viewers feel like school kids commanded to go through the tormenting session or else be punished.
Ageless Rekha's beauty works adversely for the flick which is entirely lost. It's hard to believe a grandmother becoming an epitome of beauty ('Khoon Bhari Maang' was still digestible) and thereby an overnight star in the ad world with the help of her grandson Manorath who utilizes his photography skills on her only to make his family realize what she is worth for.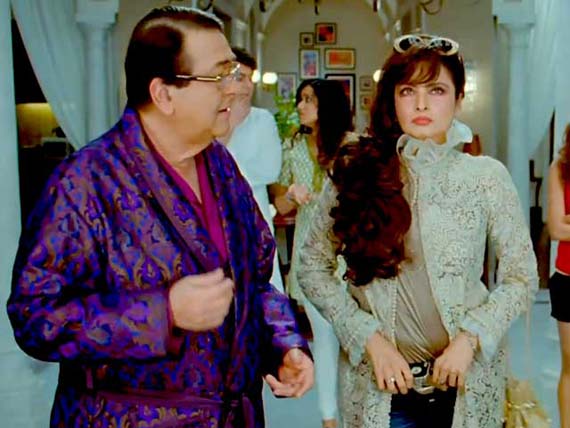 The jokes fall flat and the heart rendering scenes like Bharti being taunted by her grand kids and husband couldn't infiltrate a grief emotion within us. In fact with the daily soap saas-bahu treatment, it unintentionally turns humorous.
The 'gyaan baazi' is on throughout while the one-liners hardly make any difference in the movie.  Just watching the evergreen actress Rekha back on big screen also doesn't stand as one appropriate reason to go for this movie. However, she plays an innocent, loving and caring Nani with immense responsibility but that isn't enough to save this messy flick.
Sharman Joshi as a guide to his grandma is good but we wish he could have given a miss to work in this movie. Anupam Kher tickles funny bone in his usual manner as a filmmaker. Randhir Kapoor as Rekha's on screen villainous husband has few good scenes. Debutant Shweta Kumar is good but has limited scope to perform and goes unnoticed.
Sadly all performances are hit hard by the bad screenplay in the movie. No one wins a place in our hearts and wits. They are all easily forgettable and so is the movie. One star for Super Nani.