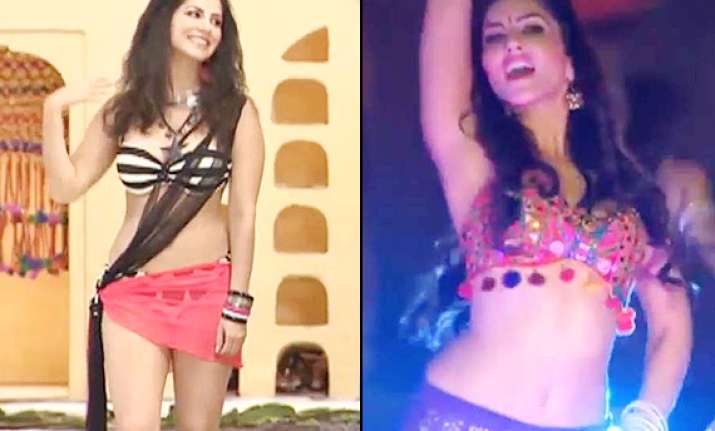 New Delhi: Sunny Leone, as expected, spilled the perfect oomph on the dating reality show Splitsvilla 7, aired this Saturday.
The uber hot contestants on the show were making most of their sizzling beauty to charm the hot honchos, but it was with Sunny's presence that the male participants could not resist hiding their amusement.
The adult film star-turned-actress, Sunny Leone entered spreading her popular 'baby doll' allure wearing a gold and red embellished bikini with a sheer covering over her legs.
But, this was a no glance as compared to her second appearance on the show when she wore a tiny bikini and entered the pool side.
Her voluptuous frame seemed carved with her aesthetic beauty and made all the men out there grasping for her magnificence. While the lady made sure to keep everyone on their toes with her steamy stints, she suffered a bit of hindrance in hosting the show.
Considering her not-so-perfect-hindi accent, Sunny couldn't continue keeping the audience glued to her sassy persona for long.
Splitsvilla, this season is catering to the theme of 'Fairy tale romance' and the popular reality show has got a niche fan following amongst youngsters.
The 7 male celebs this season are Ayaz Ahmed, Abhishek Malik, Ashwini Kaul, Mayank Gandhi, Mayank Pawar, Rishabh Sinha and Shravan Reddy.
As per the plot, there are 7 hot studs ready to get wooed by 20 steamy babes. The beautiful location of Jaipur and the dreamy Samode Palace has been chosen to play the love destination this time.
While the show seems to be growing with every episode, Sunny's seductive beauty appears to be adding all the needed glamour and dynamism to the show.
Watch out for the next episode!