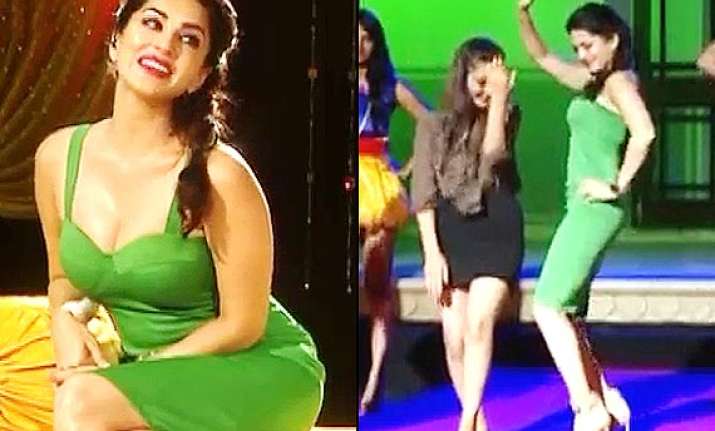 New Delhi: Splitsvilla 7 Episode 11 spilled its true colours this week. While we witnessed the romantic connection between Ayaz-Priyanka and Mayank Gandhi-Rashi getting deeper, the episode was high even on the entertainment quotient.
Something out-of-this-world happened on the show this time, when our very own hottie
Sunny Leone
took over the centre stage and grooved mesmerizingly giving a surprise to everyone.
This week's episode started on a very intellectual note as all the female contestants in the villa were asked to show how much of grey matter does they possess. And while the competition ended very interestingly, Priyanka fell short of support and was directed straight away to the dumping zone.
The second half of the show remained purely charismatic as the rest of the girls apart from queen Khushi and Priyanka (who has already been nominated for dumping), showed some moves being in their respective Disney characters.
The entire limelight was taken by Apoorva who dressed up as Tinkle Bell and Dana who made sure to create magic with her 'Jasmine' avatar. Both of these ladies garnered the maximum votes from the boys and managed to stay away from being dumped this week.
In a parallel picture, there were Scarlett and Rashi who collected the equal votes and had a tie that was ultimately broken by our 'banished boys,' Ayaz and Rishabh. Both Ayaaz and Rishabh decided to save Scarlett and sent Rashi to compete with Priyanka and Ranji in the dumping zone.
While all this was happening, a sigh of complete entertainment with a true visual treat came in when Sunny Leone shook a leg with other girls on the stage.
Sunny, who again looked glamorous in an emerald short outfit, ran to the stage and joined the ladies to groove on 'Desi Girl.' As she moved and tapped, she enthralled with her sassy expressions and instant jigs making the boys go crazy over that mood.
The show had an intense vibe during the episode's consummation as two connections in the villa; Mayank-Rashi and Ayaz-Priyanka stayed on periphery with both the ladies ready to compete to be back in the show.
Watch out for whose connection stays blooming in the next episode!