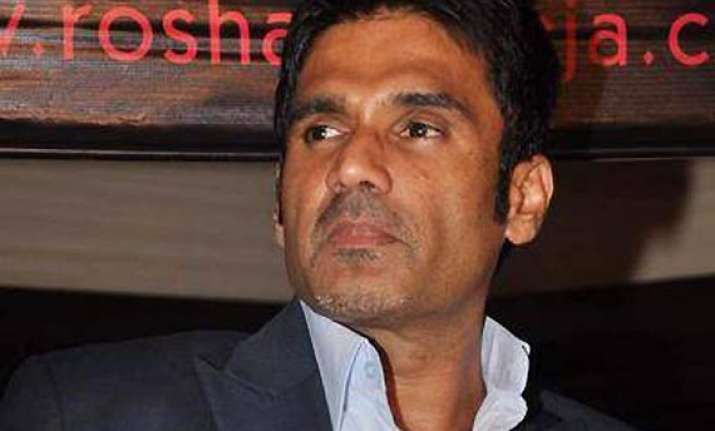 New Delhi: A Delhi court has imposed a cost of Rs 20,000 on Bollywood actor Suniel Shetty for failing to appear before it in a defamation suit filed against him by a stuntman.
Chief Metropolitan Magistrate Savitri, however, allowed the exemption plea of the actor and his advocate Vinit Dhanda "considering their status" and directed them to deposit a cost of Rs 20,000 and Rs 2,000 respectively.
"It is important to note that on the previous date of hearing both accused persons (Shetty and Dhanda) had moved applications for exemption. "Though there is no ground to allow the exemption of accused persons, however, in the interest of justice, considering the status of accused persons, I allow exemption of accused Suniel Shetty subject to cost of Rs 20,000 and that of accused Vinit Dhanda subject to cost of Rs 2,000 which will be paid on the next date of hearing," the magistrate said. The court has now fixed the case for bail of the actor and his lawyer and also for framing of notice.
It was hearing the defamation case filed in October 2013 against Shetty and Dhanda by Delhi-based stuntman Puran Chauhan, who alleged that the two accused had made false statements before the high court and media that he had beaten one of them and an FIR has also lodged against him.
Chauhan claimed that with the help of his false statement, in 2011, Shetty had managed to obtain stay from the high court on summons issued for him to appear in a case in which the actor was accused of not paying him nearly Rs one crore.
According to Chauhan, Shetty had told the high court that on March 2011, his lawyer was beaten by the complainant inside a washroom in the court building.
Shetty had also told mediapersons outside the court that an FIR has been lodged against Chauhan and he would be arrested soon, the complainant has claimed, adding that no such beating incident had taken place.
Chauhan said through an RTI reply from police headquarters, he came to know that no FIR was lodged against him and no PCR call was made at the time of the alleged incident. He said he was defamed by Shetty and Dhanda as several newspapers had carried the news that he had beaten the lawyer.
Earlier, the court had said it appeared that allegations made by Shetty and Dhanda against Chauhan that he had beaten the lawyer on March 22, 2011 amounts to defamation and prima facie case is made out against the duo.
The high court had earlier issued summons to Shetty and his film producing firm, Pop Corn Entertainment Pvt Ltd, on the suit of Chauhan accusing the actor of not paying him nearly Rs 1 crore. In his suit for recovery of Rs 97,98,630 from Shetty's company, Chauhan had accused the actor of not paying him any money for availing his services during shooting of the movie "The Little God Father" in 2007.
As per the suit, Shetty's company had decided to make a documentary film to highlight the plight of victims of the Mumbai serial train blasts on July 11, 2006, and the film director had approached Chauhan to be a part of the project. Chauhan had said he was also promised a handsome amount for his services and alleged that Shetty failed to pay him according to the offer letter.
In his recovery suit, he had also claimed that due to his efforts, the Western and Central Railways had exempted Shetty from paying fees worth Rs 3,94,00,000 for using various railways' sites in Mumbai. But, Shetty instead of him giving him his dues, had gone on to threaten him with dire consequences for demanding the same, Chauhan had alleged.