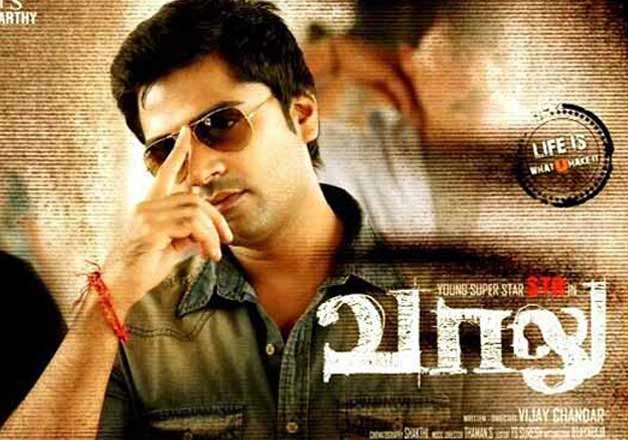 Chennai: Debutant director Vijay Chander, whose forthcoming Tamil actioner "Vaalu" releases in cinemas on Friday, says actor Silambarasan aka Simbu never gave up on the project despite several months of delay for it to hit the screens.
"Simbu could have left the project midway and moved on. But he didn't because he knew it was my first film and understood how important it would be for me. He didn't give up on me or the project and I'll always be indebted to him for life for that," Chander told IANS.
The film, which originally went on floors in 2012, is finally gearing up for release.
Vijay blames time for the delay.
"Sometimes when time doesn't work in your favour, things go haywire. One of the mistakes that we made was taking a break after the first schedule. Unfortunately, I couldn't reassemble my actors because most of them are popular and were busy with multiple projects. Hence, we had to wait," he said.
"In the beginning, we were shooting at a railway station set in Hyderabad. We were forced to stop shooting for about six months after a bomb blast in the city. We could have recreated the set elsewhere and completed the shoot, but it involved lot of cost," he said.
While the delay was inevitable, Vijay still considers "Vaalu" a special project.
"I'll treasure the time I spent with Simbu on this journey. Had we finished the film in a year, we would have moved on and probably never stayed in touch. This delay strengthened our bond," he said.
The film happened because of comedian Santhanam and the film's composer S.S. Thaman.
"They're my good friends. They always wished to see me as director. It was in Thaman's music studio that I met Simbu for the first time. He had come there to record some song. Simbu just heard half hour of the story and gave his nod," he added.
Vijay says "Vaalu", an out-and-out entertainer, is a tailor-made script for Simbu.
"It's about a guy from a middle class family, his love and his friends. It will be like a Rajinikanth film aimed to entertain different sections of the audience. Irrespective of their age, each viewer will relate with the film one way or the other," he said.
The film, he says, is best suited for Simbu's image.
"Some stories are written keeping in mind the image of an actor. I wrote 'Vaalu' keeping in mind Simbu, his mannerism and attitude. It's a film with lot of mass elements that only Simbu could do justice," said Vijay, who gave prime importance to screenplay and dialogues in the film.
"The dialogues are already a hit, thanks to the response from the film's trailers. If a film has to work, it heavily relies on screenplay and dialogues," he added.
The film also stars Hansika Motwani as Simbu's love interest.