Follow us on There is no denying that R Balki is one of the most talented directors we cherish in our industry. Initiating new concepts is his beauty and we already have once again witnessed it in the trailer of his latest offering 'Shamitabh'.

The amalgamation of voice and the 'monkey' face (as our lead actor in the movie is criticised with) has created an intriguing aura around the flick. But the more promising it looks from outside the more compromising it is from within.

Film: Shamitabh
Stars: Amitabh Bachchan, Dhanush, Akshara Haasan, Rekha, Paul Blackwell
Director: R. Balki
Rating: ***
Director post flicks like Paa and Cheeni Kum look astray in 'Shamitabh', which more often becomes a satire on Bollywood rather than dealing with the ways to fight the ego clashes between two superlative personalities. It at times shapes up as a mirror to Big B and Dhanush for what they are known in real life. They face the harsh realities, which they are encountering since their inception in the film industry with aplomb.
"Meri awaaz villain ki tarah lagti thi", says the legendary actor (who also croons songs while is set to do commentary in Indo-Pak WC match) recalling his unfortunate times when he came to Mumbai for audition. The director goes on to even deject Dhanush who plays Danish.  'Tere weight (59 kg) se zyada bhari meri awaaz hai' utters Big B to Dhanush who asks him to lend his voice to him.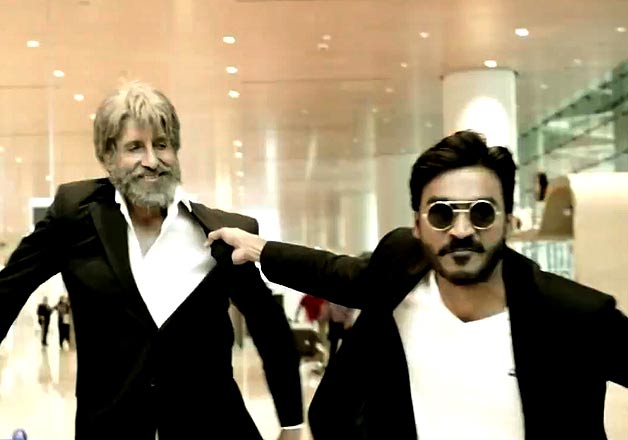 This session keeps us hooked as Big B and Dhanush share detestable chemistry until it gets disrupted by the mess up in the end. It appears as the movie is tailor made for Mr Bachchan who is given opportunity to live his never existing side. Like if he had not been given a break as a voice narrator in Mrinal Sen's 1969 National Award winning film 'Bhuvan Shome' he would have been a drunkard sitting besides his reserved graveyard imprecating throughout his life.
Unsurprisingly he takes a bigger share of the pie but nevertheless Dhanush too fights for it. He has a belief to remain unconventional and non starry and that's his biggest strength. Take his Bollywood debut flick Raanjhana or this one, Dhanush remains simple as to what he and we all believe will stand him apart. He doesn't shy away on being mocked for his linear body or not so attractive face. "What if I rip your clothes off, dekhne ko hai kya tumme", jokes Akshara while she confesses her love to Dhanush.
We admire that more than we criticise Balki for not being justifiable in the second half of the flick. Dhanush's rise to stardom is made look so effortless that we keep questioning our subconscious for that. Digs such as purchase of awards, conning the emotional fool audience- comes at different intervals, which are still okay considering the movie is about the film industry but not at the cost of main plot, which is about the one-upmanship and that sadly loses focus.
Numerous stars' cameos too don't quite increase our excitement among, which Rekha's likeability for Big B's voice is meaningless. Despite all this, movie can be watched for Big B and Dhanush alone. Such impeccable is their hate chemistry that you don't much bother about the other qualms created in the movie.

It even reaches to such an extreme level that they are compelled to put their hands on each other. The agony, the helplessness they show carries more engaging content. Even Akshara who plays a mediator between the two doesn't leave the required impact on us. Three stars for Shamitabh. Don't expect the same R Balki magic, just watch out for DhanuSH-AMITABH.