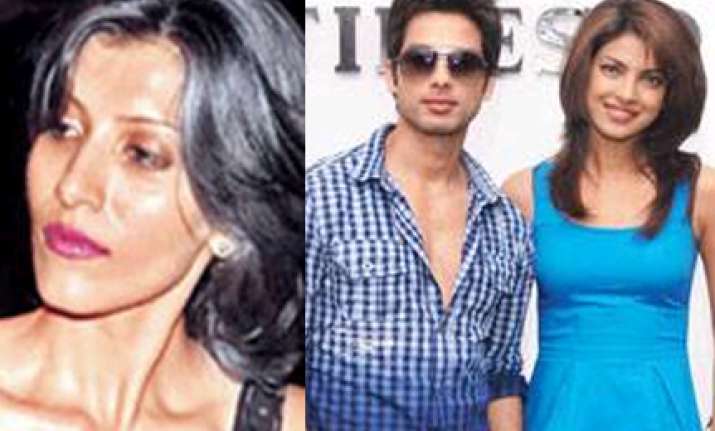 Bollywood actor Shahid Kapoor has not only patched up with his ex-girlfriend Priyanka Chopra, but also with Mubina Rattonsey, the executive producer of Kaminey, whose closeness to the actor was supposedly one of the reasons that caused the Shahid-Priyanka split, says a media report.
On Thursday night, as the three walked in together in a 5-star hotel in Juhu, heads turned and many knowing glances were exchanged by diners.
 A few minutes later, the three settled down for a cosy meal. "Priyanka hardly ate much as she had damaged her vocal cords and lost her voice (Mumbai Mirror, Aug 5), but she quite seemed to enjoy Shahid's company. Shahid was equally engaging," says a source.
"Shahid, Priyanka and Mubina looked very happy in each other's company. They came and left together. They were in the hotel for nearly two hours," adds the source.
In the course of the evening, when the actor spotted actress Tabu seated a few tables away, he walked up to her and the two exchanged pleasantries.
 Shahid and Mubina became close during the making of Kaminey, which also starred Priyanka. When the two actors broke up subsequently, it was reported that Priyanka had discovered that certain comments about Shahid that she had shared with Mubina were reaching him.
The actress is said to have confronted Mubina soon after, but the latter denied that she had any role to play in the matter. But when this continued, Priyanka simply decided to put a distance between her and Mubina. Today, however, it all seems a thing of the past.