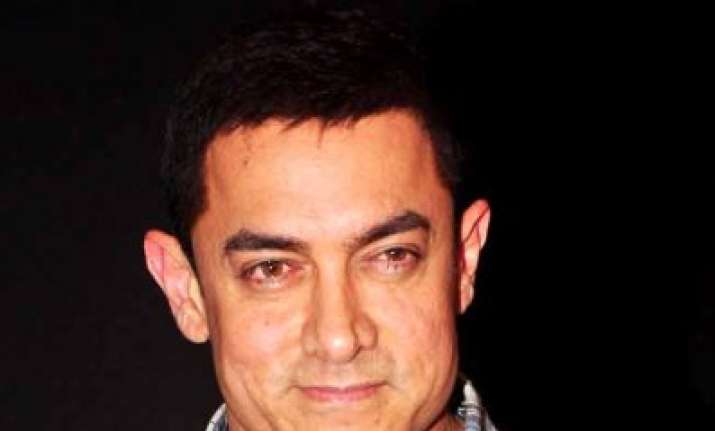 Superstar Aamir Khan is back with yet another season of his popular TV talk show 'Satyamev Jayate' which will have new additions like Bollywood celebrities talking about various causes.
After getting an overwhelming audience response for the two seasons, the third edition of the show, which highlights social issues prevalent in India and discusses possible solutions, will see the popular actor having 'live' interaction with viewers and connecting with them on new-age social media platforms like Twitter and Facebook.
Unlike the previous seasons, this one starting next month will have celebrities talking about various causes. "There will be some celebrities on the show this time. There will be top stars from the industry for some episodes. They are there on the show not because they are celebrities but they are related to the issue…they will be contributing for the show," Aamir said here tonight at a press conference organised to announce the third edition. "We don't want to use this (presence of celebs) as publicity for the show. There is a reason for them to be on the show…it is not for promotion," he said.
Reportedly, Aamir has invited Kangana Ranaut, Parineeti Chopra and Deepika Padukone for one of the upcoming episodes, which talks about women empowerment. This time around the viewers will get to share their thoughts live with Aamir as soon as an episode comes to an end. He will interact with the people and take note of their suggestions about the issue discussed.
"This time I will be live with the people. We can get opinion and suggestion of people immediately. I will also connect with them through Twitter and Facebook. So this is a new element in our show," the 49-year-old actor-host said.
The actor said the show, which was first telecast in mid-2012, has transformed his public image. "People don't look at me as an actor alone. I remember when I was shooting for 'PK' in Rajasthan the media there did not ask any questions about 'Dhoom 3′, which was about to release. They did not even ask me why I was in Rajasthan… they asked me only about 'Satyamev Jayate'," Aamir said. "That time I realised they (media) don't have interest in my film career and time has come for me to retire. This makes me realise that people don't look at me as an actor alone. Through my profession I touch people's heart through stories. And using this (the show), I try to bring change in society."
Aamir got emotional while talking about the programme, which he said, has transformed him as a person. "There are lots of changes in me…I have become more patient, there is maturity and I am less judgemental as I have seen a lot of things through this show. In the show, you see that I talk to 8-10 people but during our research I talk to 70-100 people. "We get angry but feel helpless while dealing with our problems. We have seen a lot of things and it has had a huge impact on me. The show has been difficult for me emotionally," he added.
The first two seasons focused on issues like female foeticide, sexual abuse of children, dowry, domestic violence, medical malpractice, casteism and water crisis. However, Aamir was tight-lipped about content of the third edition. "We don't reveal topics usually and this time also we will not reveal them. But there are several NGOs and lots of people who on our websites suggest topics that we should take up on the show. We consider all the suggestions and opinions and plan accordingly."
"Every topic surprises me. The team goes around the country and they show the research material which shocks me, I get angry, I get emotional, I feel the pain. There are lots of emotions that I go through," the actor said. The third edition of the show will go on air on September 21 on Star Plus channel.