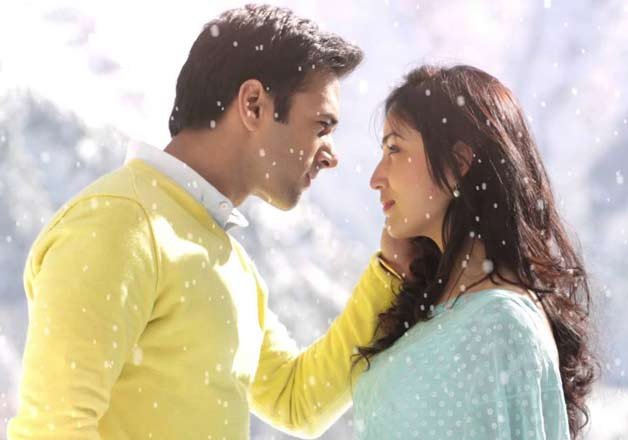 Genre: Romance Drama
Cast: Pulkit Samrat, Yami Gautam, Urvashi Rautela, Rishi Kapoor
Rating: **(2/5)
Director: Divya Khosla Kumar
New Delhi: Even though, expectations were never high from this second directorial venture of Divya Khosla Kumar, but the melodious musical score along with the much hyped Pulkit-Yami's alleged 'real-life' love affair made us hopeful for a decent love story if not an extraordinary one.
But the film shatters that little ray of hope into small pieces as it turns out to be an over-the-top melodramatic love affair. The major drawback of the film is its amateurishly written script that is so predictable that even a 10 year old would tell the next sequence.
The story of the film revolves around Aakash (Pulkit Samrat) who has moved to Mumbai from his home-town Tanakpur to pursue a job. As he struggles in the new city trying to settle down amidst the bustling crowd, his boss keeps him irritated the entire time.
After a good few years, when Aakash goes back to his home-town following a family emergency, he remembers his childhood sweetheart Shruti (Yami Gautam). His Daadu's (Rishi Kapoor) lessons on love create an urge within him to go back to his first love.
But in a twist of fate, he is suddenly sent to Canada to crack a deal for his company and get promoted. Now enters Mrs. Pablo (Urvashi Rautela), who stands between Aakash and his goal. So, in order to get it done, he has to woo the lady.
He is taken aback when he meets his long-lost first-love Shruti at the camp in Canada and then begins his chase to get her back in his life.
This done to death script is nothing more than a yawn-fest as every Hindi film viewer would know what is about to happen in the next frame exactly. It becomes an uphill task to sit right through a film with such stretchy sequences and outdated dialogues.
It seems like the first half of the film is preparing the viewer for an even worse second half. The only saviour of this love-story is its songs that come every now and then and its beautiful locales.
Keeping in mind Divya's previous directorial venture 'Yaariyaan', it is not a surprise that 'Sanam Re' has an extremely sloppy direction, even more than the script. Following the path of the typical love-stories of Bollywood and presenting the same sequences with new star-cast and rehashed dialogues is not called direction.
The film rides high only on its brilliant cinematography.  The amazing locations of Leh, Himachal and Canada are a visual delight.
Another department that earns brownie points for the film is its music. The songs are already quite popular among the listeners and they come as a relief in the film from the painful story.
As far as performances are concerned, there isn't anything to talk about that either. Pulkit Samrat does an ordinary job as a young romantic lover but the blame of an average performance is to be put on the script.
Yami Gautam delivers a weak performance. It is disappointing to see her doing the same kind of acting again and again.
Urvashi Rautela is merely used as a showpiece in the film. All she has done is skin show which doesn't require much of acting.
Rishi Kapoor in a small role does an excellent job and is probably the most effective actor in the movie.
Overall, Sanam Re is a total Valentine-Day spoiler with a torturous plot. Such films don't even deserve to be viewed on TV, forget spending your hard-earned money over it.
Watch the trailer here: