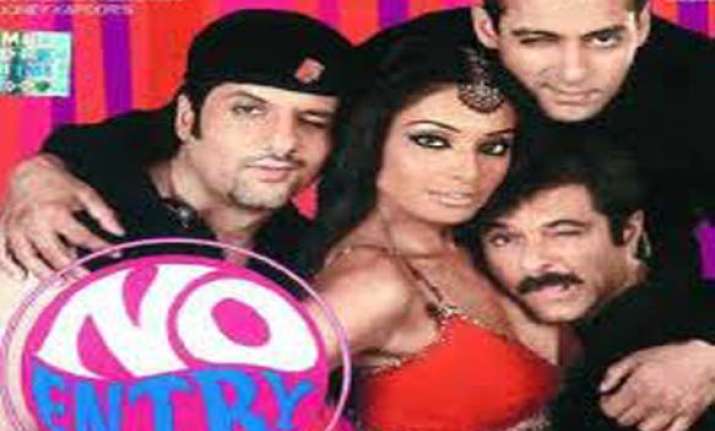 Bollywood producer Boney Kapoor and director Aneez Bazmee have sent back the  sequel to No Entry back to the storyboard in order to give a supersize image to  superstar Salman Khan after his Dabangg hit, says a media report.
Convinced that the laugh riot stands a better chance with Salman toplining it, the producer and director are now reworking the script.
 Salman's larger than life persona has gained even more in stature thanks to his dream run in 2010 with Dabangg busting the charts.
 And to make room for the plus-sized star, Boney Kapoor and Anees Bazmee, have sent the script of the sequel to No Entry back to the drawing board with very strict instructions: make room for more Salman Khan, much more.
A reason why it will no longer be a three-star project starring
Anil Kapoor
- Fardeen Khan and Salman Khan, but an out and out Salman comedy.
Bazmee who is currently shooting with Salman in Bangkok confirms the developments, saying, "We've scrapped the original idea of a sequel. I'm writing a new version of New Entry Mein Entry which will have a lot more of Salman Khan than the original."
Says Bazmee, this is being done to appease the growing tribe of Salman fans. "His fans will be delighted with his role in the film," he assures.
This is also an opportunity for Boney Kapoor to express his gratitude for the star who has often come to his rescue.
 In 2005 when Kapoor's production company had gone into the red, Salman rushed forward to lend his brand value for free in No Entry, even after the core-cast had already been finalised.
The extended cameo designed for Salman actually saved the day. Four years later Salman starred in Kapoor's Wanted and shook up the box office.
 And after last year's much-delayed Milenge Milenge tanked, it reaffirmed Kapoor's conviction in his lucky mascot. Salman was supposed to make a guest appearance as the narrator, but had walked out after a spat with Shahid.
With the sequel to No Entry, Kapoor is not taking any chances. Adds Bazmee, "Salman had done No Entry as a goodwill gesture. We can't have him in the sequel doing a cameo, can we?" Of course not. With Sallu, things can only get bigger.