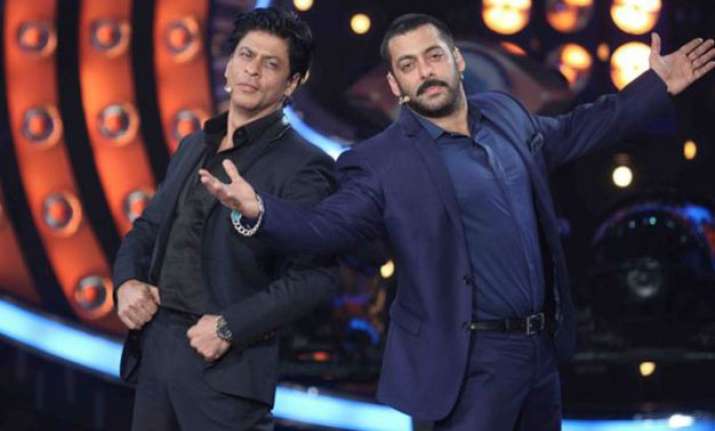 New Delhi: One of the most followed reality shows on Indian television, Bigg Boss will end its ninth season tonight. Hosted by Salman Khan, the show spanning 105 days had celebrities locked up in a house.
After weeks of struggle, surviving elimination and performing tasks, inmates Prince Narula, Rishabh Sinha and Mandana Karmi will battle it out for the trophy.
Before the curtains draw on the finale, we take you on a walk through the memory lane of Bigg Boss 9. What looked like a promising season, did not keep up with the expectations of the viewers.
We bring you five reasons why this ninth edition was the first-of-its-kind.
Salman – SRK reunion:
Superstars Salman Khan and Shah Rukh Khan buried the hatchet in 2014 after years of apparent enmity. Though the two exchanged pleasantries on social media, their fans waited to see them sharing the screen. Bigg Boss eventually made it happen. SRK visited Salman's show to promote 'Dilwale', which was directed by Rohit Shetty. Salman returned as a host for the fifth time, but SRK never promoted any of his movies on the show. Seems Arjun (SRK) couldn't bear distance from his Karan (Salman).
Coupled entry:
For the first time in the history of Bigg Boss, contestants were coupled before entering the house. This was in according to the 'Double Trouble' concept that the show adopted this season. Inmates were tied before they were allowed in the house. However, sensing minimal involvement of the contestants, all ties were broken in the second week itself.
Uninteresting concept:
This also counts as a first for Bigg Boss. The much hyped 'Double Trouble' failed to garner viewers' attention. Also, despite the presence of two couples and one ex-couple, the show's episodes were mostly bland.
Allegations on Salman:
Salman Khan can be credited for being the only the righteous man in the shady show. On this season though, even he was subjected to scrutiny. An evicted contestant Puneet Vashishta alleged Salman of being unfair and favouring few contestants. This sparked many controversies with former winners of the show blatantly denying the accusations.  
Timings shifted:
Bigg Boss 9 was aired at 10:30 pm on weekdays, shifting the time by one and a half hours. Most of the seasons have aired at prime time. However, due to adult content and cussing by contestants, the show landed in a legal soup. Many activists demanded a change in the timing. The channel never accepted that this was the reason they decided to air the ninth season at 10:30 PM, making it the first-of-its-kind.