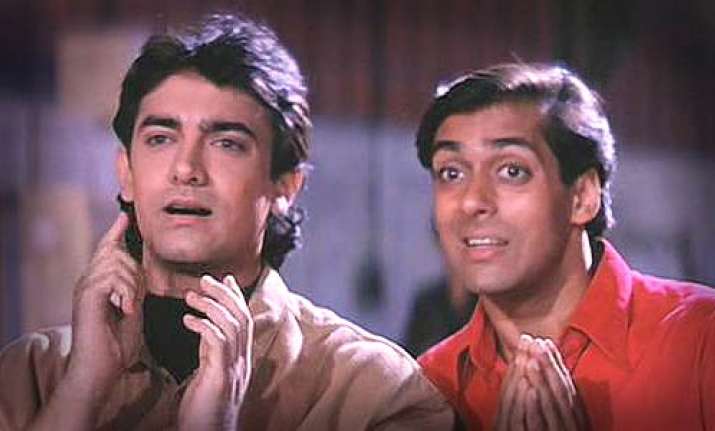 The much-awaited sequel to the 1994 cult comedy Andaz Apna Apna may soon be made, says a media report. The movie established Aamir Khan and Salman Khan as the warring friends, Amar and Prem, and redefined situational humour for a long time to come.
Recently, director Raj Kumar Santoshi met Aamir and apparently, they have finally zeroed in on an idea that will justify the sequel and do justice to both the superstars.
According to a source, "When Aamir met Santoshi, he told the director that he has shunned sequels so far. But as Andaz Apna Apna is special, they have been discussing various ideas and have zeroed-in on an idea they like."
Both Aamir and Salman have been keen to star in the sequel. Of late, the superstars have become buddies as well. If Salman praises Aamir's Peepli (Live) then the exacting Aamir reciprocates by praising Dabangg.
"It was Salman who suggested to Aamir that they come together for the sequel. Both the superstars are very close to Santoshi (Salman did a cameo for Santoshi's Ajab Prem Ki Ghazab Kahani and Aamir has been in talks with Santoshi for several projects) and they've decided to go for the sequel full-throttle," added the source.
When Raj Kumar Santoshi was contacted, he admitted to his recent meeting with Aamir with respect to the sequel. "It's amazing how much interest there is in Andaz Apna Apna  after so many years. My movie Ajab Prem Ki Ghazab Kahani was a tribute to the spirit of that movie. Aamir, Salman and I are really looking forward to coming together again," said Santoshi.
Aamir and Santoshi might be jointly producing the sequel as well. An earlier  rumour doing the rounds was that Ramesh Taurani of Tips is producing the sequel but Santoshi refutes it. "I am doing another film for Ramesh Taurani with Salman. It's a family drama. The sequel is a separate entity and we're very excited about it."