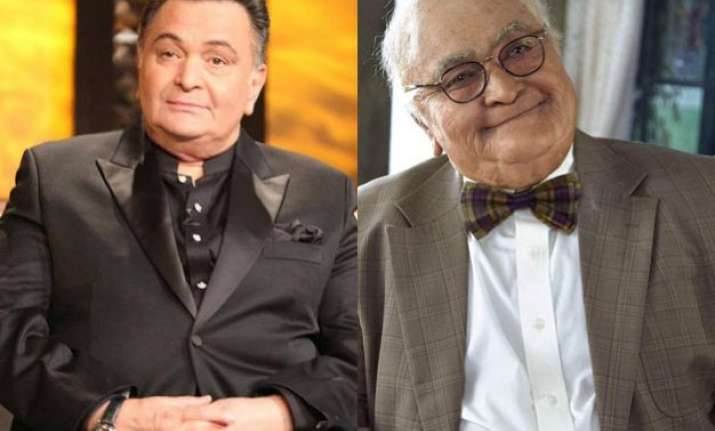 New Delhi: Veteran actor Rishi Kapoor is like a wine that keeps getting better with age. The veteran actor proved this yesterday when he took to Twitter to reveal his unrecognizable look from the upcoming movie 'Kapoor & Sons'. While many are still finding it difficult to gather that he is Rishi after all, the actor revealed that an amount of around Rs 2 crore was spent on his look.
"I am surprised and shocked. This is not a very big-budgeted film. The charges of creating my face and the after charges of his travel, his stays in hotels, his assistants is exorbitant. It's almost Rs 2 crore. I don't know of any producer who would keep Rs 2 crore for the make-up of Rishi Kapoor. It's impossible, nobody does that. But I am happy that we are evolving, we are going ahead. Hindi films are experimenting," Rishi Kapoor said in an interview to a leading daily.
Rishi further revealed that American makeup artist Greg Cannom was brought on board for the task. "See, we have great make-up artists in India, but we lack in technology, we lack in the material. If we get the technology and the material, it's not that our people cannot do it," he said highlighting the lack of technology in India.
"I credit Karan Johar for giving this budget just for my makeup," he said heaping praises on the producer.
Detailing the entire process Rishi said it took the artist a lot of effort to come up with the right look.
"He (Greg) took several weeks to design my face. He took a mould of my face. I have had eight applications put on my face—my bald cap, my nose, my two cheeks, my two hands and my quadruple chin. It was made of Silicon. It's not exactly prosthetics. The exercise was the same but the material was different. The trick was how to blend all those applications of on my face. It was just like a second skin," he said.