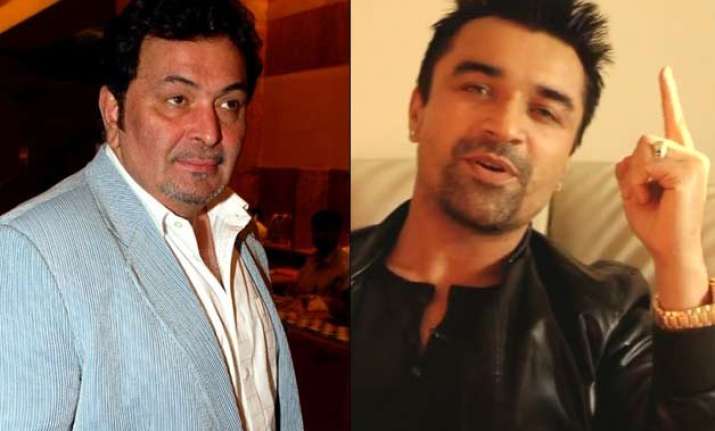 New Delhi: Salman Khan kept social networking sites, like Facebook and Twitter, buzzing with updates on the judgement of his infamous 2002 hit-and-run case which is still trending even after 24 hours since the court pronounced the judgement.
The social networking websites came alive with discussions for and against superstar Salman Khan after he was sentenced to five years in jail in the 2002 hit-and-run case that left a man dead and four others injured.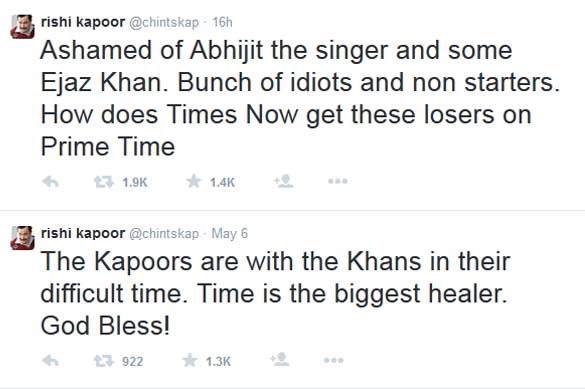 His friends from in-and-outside the industry tweeted in his support, but it seems that this tweeting game has led to a different controversy all together.
Veteran actor Rishi Kapoor who is quite active on Twitter lashed out at singer Abhijeet and actor Ajaz Khan for posting abusive tweets in support of Salman Khan.
Ajaz had posted on Facebook : "To hell with INDIAN law our Government is responsible for this. Garibo ko ghar do they sleep so close to the road U do little mistake and this hap mere dost se bina piye Yeh huwaa hai in Gujraat pray for Bhai"'(sic.)
In a series of tweets, Rishi Kapoor bashed Ajaz Khan and Abhijeet for their too sugary and controversial tweets.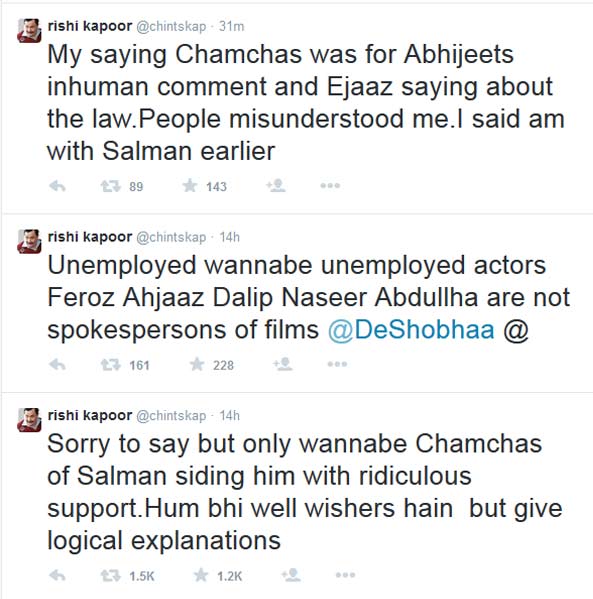 But actor Ajaz Khan who was last seen in 'Bigg Boss 7,' gave it back to the senior actor by replying him on Twitter.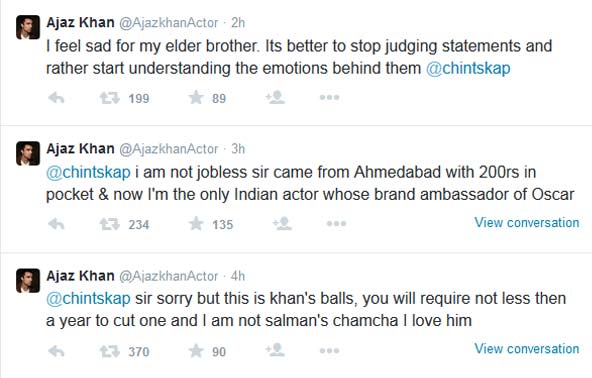 In the reply, Ajaz made it quite clear to Rishi Kapoor that he's not Salman's 'chamcha' but genuinely cares for him, as he considers him as hi elder brother.
We hope it gets over soon.