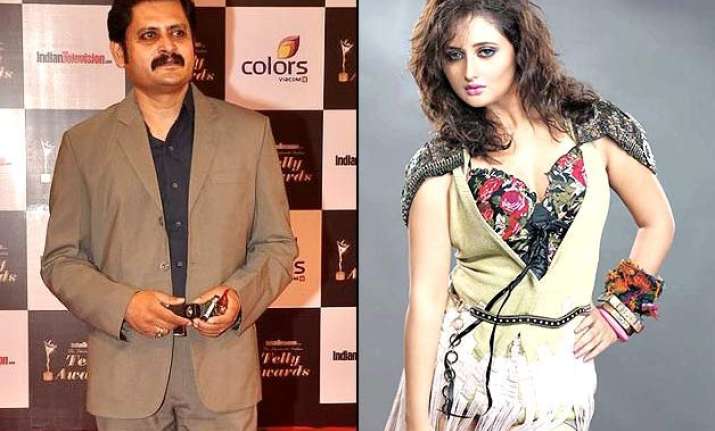 Rashmi Desai refuses a role stating that the actor playing her husband is too old to act opposite her in new &TV show
New Delhi:
Rashmi Desai who has been shown the doors from popular action reality show '
Khatron Ke Khiladi
' seems to be taking her stature in the industry too-far-to-understand.
According to the latest TV reports, the actress was offered the lead role in &TV show 'Bhabhiji Ghar Par Hai.' However, Desai refused to do the show stating her objection with actor Rohitash V Gaud playing her husband.
It should be noted that Rohitash is quite a known face of TV industry and has surfaced in shows like 'Lapataganj', 'Jasuben Jayantilaal Joshi Ki Joint Family,' and films like 'Lage Raho Munna Bhai,' 'A Wednesday' and many more.
The role is now been taken up by actress Shilpa Shinde who is popular for shows like 'Chidiya Ghar,' 'Do Dil Ek Jaan,' 'Bhabhi', 'Maayka' and many others. While Shilpa has mentioned that Rashmi's refusal for the show came as quite surprising to her, she also stated her stance over the reason being given by the actress.
As she was quoted by a leading daily, Shilpa said that it was strange that Rashmi opted out from the show stating that her co-star Rohitash looks too old to be star opposite her.
As she further mentioned her opinion on the fact, Shilpa said "You are not getting married to your co-actor in real life to be worried about looking good or bad on screen. If the script is good and if you give your best to the show, I am sure the chemistry will work out between two actors."
While Shilpa thoroughly praised the actor by saying that he has got a senior stature in the industry, she also elaborated around how comfortable it is with working with him since he is very talented too.
"Rohitash V is a senior actor and I have worked with him before. In fact, he has even helped me deliver dialogues in the Kanpur dialect, since I am a Maharastrian," said the lady.
Well, we say a 'big' person is always modest in his/her stands over an issue!