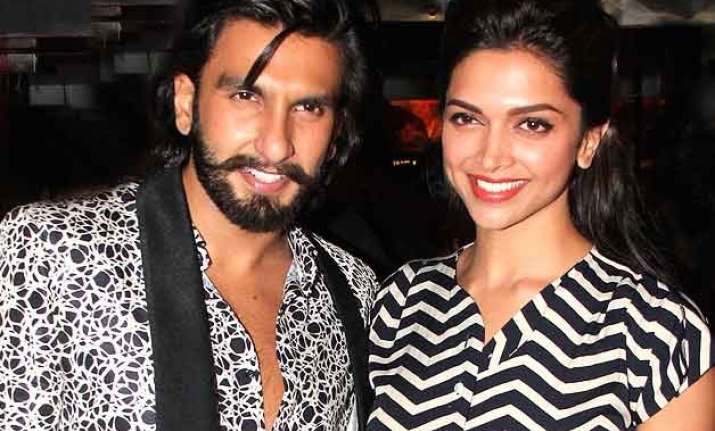 Ranveer Singh-Deepika Padukone at Piku success bash in Mumbai
New Delhi:
Ranveer Singh seemed whole heartedly cheerful for the success of Deepika Padukone's
Piku
. And why not! He is the man who holds utmost respect for Deepika both as a person and as a performer.
As he attended the last night happened success bash of the film, the actor once again came vocal on expressing how smitten he is with Deepika Padukone.
Apart from his gestures and body language that visibly described his inclination towards the actress, Ranveer didn't escape from praising her too.
As reported by a leading daily, Ranveer Singh claimed that Deepika is the most compatible person to him. He further explained how both he and the lady share a completely similar perspective in viewing the worldly affairs and other things happening around.
"Yes, I agree with it. We are definitely compatible and get along really well. Our world view, outlook on life and value systems are similar. I am really lucky and blessed to have her in my life," said Ranveer.
The man who will next be seen romancing Anushka Sharma in Dil Dhadakne Do also stated that Deepika is extremely special a person for him. "She is a very special person, someone whom I learn a lot from; and have great admiration and respect for. She is someone who gives me great joy with her sheer presence in my life. I am blessed to have her as a friend," mentioned the star.
Photos: Vinod Singh
The actor who was quirkily dressed up in a funky blazer and pants left no stone unturned in displaying how happy he is for Deepika.
As can be seen in the pics, Ranveer didn't even care for his severe injury and posed ecstatically without his sling. Waving high and giving flying kisses constantly, Ranveer appeared the man with terrific energy at the bash the last night in Mumbai.
Also joining the couple were stars like Karan Johar, Arjun Kapoor, Alia Bhatt, Siddharth Malhotra, Malaika Arora Khan, Sohail Khan, Farah Khan, Sushant Singh Rajput amongst many others.
Both Ranveer Singh and Deepika Padukone along with Priyanka Chopra will be seen in Sanjay Leela Bhansali's 'Bajirao Mastani.'
Well, every time we see this couple, an instant grin runs on our face. Don't you second this feeling?