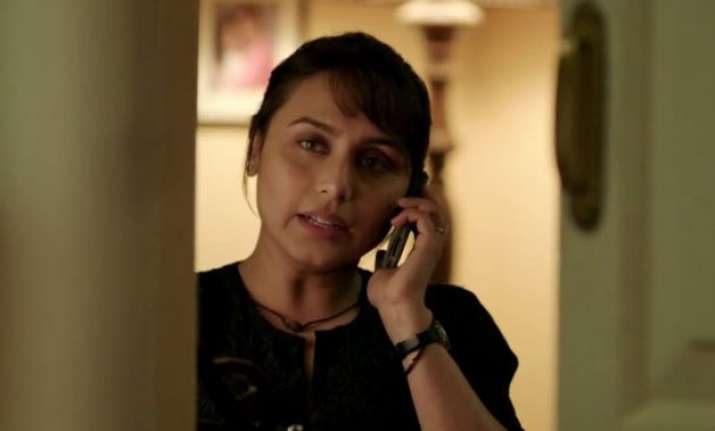 New Delhi: Actress Rani Mukerji, who won accolades for her tough-cop role in 'Mardaani' last year, will be felicitated with National Award by the Institute for Gender Justice for bringing in light the issues related to girl children and women's protection in the flick.
The 'Hum Tum' actress will be honoured for the 'Best Representation of the Cause of Safety, Security and Protection of Women and Girl Child'. On the occasion of International Women's Day a function will be organized by Institute for Gender Justice where Rani will be given away the award. 
The actress has already left from Mumbai for the capital to receive the National Award. 
Announcing the honour for Mukerji, Sreerupa Mitra Chaudhury, Chairperson, Institute for Gender Justice was quoted by Bollywood Life as saying, "The representation of women in the media, both print and electronic, has been if not to say much, targeted at com-modification of woman. This has had a dire consequence on the status of women which is reflected in the perpetual crime against women in the society."
Chaudhury thanked Rani for playing the role with spirit and that she helped in bringing in notice such an important cause. "This award is an endeavour to recognise those agents who want to represent women and girl child in a better light and not com-modify them. This award is a result of our endeavour to encourage stake holders and functionaries.…. in the role of Shivani Shivaji Roy in the film Mardaani, you epitomise the spirit of the countless involved in this long fight against human trafficking. That for you to be associated with a movie addressing such an important and urgent cause attracts the attention of the viewing public and focuses their attention on this pertinent issue."
"The role so naturally played by you of an empowered and courageous police officer has given the correct message, and the promotional clip that aired on the TV channels to promote the movie also correctly urged people to watch the movie with their entire family, since human trafficking is an issue that every man, woman and child should be aware off and this awareness is our best tool in this fight", Chaudhary added urging viewers to watch the view with entire family. 
Mardaani, which also starred Tahir Raj Bhasin was directed by Pradeep Sarkar and revolved around a tough cop's efforts to bring down a sex-trafficking racket.