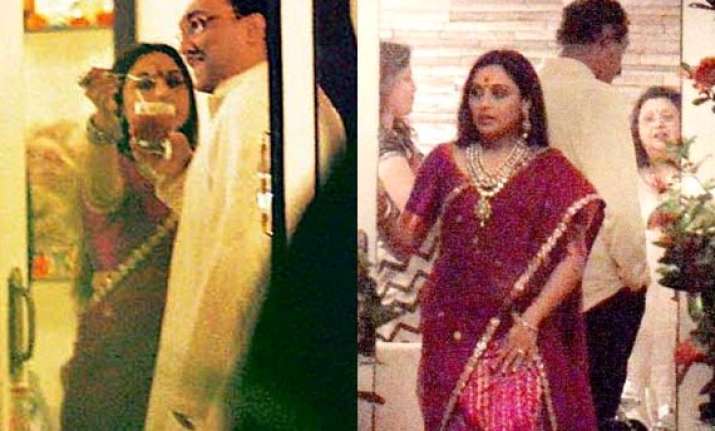 Their affair was the most talked about hot topic in Bollywood, and now with their wedding has shocked people.
While the nation wonders about why and how Rani Mukerji and Aditya Chopra made quick wedding arrangements, here is an insight on the real reasons behind their hush-hush marriage.
A birdie informed us that last week Bollywood actress Rani Mukerji's father was hospitalised following major heart-condition after his pacemaker collapsed.
While on the hospital bed, Rani's father Ram Mukerji was worried about his daughter's future. According to reports, Ram was quite worried about his deteriorating condition.
Aditya Chopra asked him about his worries to which he replied, "I only wish to see my daughter married before I die". Sensing this, Adi promised Ram that he would see his daughter getting married to him and the he'll (Ram) be there to bless the couple.
Sooner the arrangements were made and the venue for the wedding was zeroed in on Italy.
Both Mukerji and Chopra's immediate family members including, Pam Chopra, Uday Chopra, Ram & Krishna Mukerji, Raja Mukerji and couple's best friend
Karan Johar
boarded the flight to Italy.
Accompanying them on flight was a family pandit.
While both the families are basking in the joy, few of them are still in state of shock and wonder why the news of the couple's marriage was kept away from them. Rani Mukerji's uncle Rono Mukerji expressed his displeasure over his family and brother hiding away the news of his niece's marriage.
He was upset on being asked about Rani-Aditya's secret wedding, he said, "This is all a news to me, I have learnt about the news from you just now. I wonder why Ram kept this news as a secret from us, from me his brother?".
YRF yesterday issued a statement confirming the couple's legally union, "We are happy to announce that Mr Aditya Chopra and Ms Rani Mukerji got married last night on 21st April in Italy. The wedding was a very small intimate affair with very close family and friends. We wish the couple a very happy married life."
Soon after the wedding actress Rani Mukerji herself issued a statement saying, "I would like to share the happiest day of my life with all my fans all over the world whose love and blessings have been part of my journey all these years. I know that all my well-wishers who have waited for this day will be really happy for me. It was a beautiful wedding in the Italian countryside with just a few of our close family and friends with us. The one person I missed terribly was Yash uncle, but I know he was there with us in spirit and his love and blessings will always be with Adi and me. I have always believed in fairy tales and with God's grace, my life has been exactly like one, and now, as I enter the most important chapter of my life, the fairy tale continues."