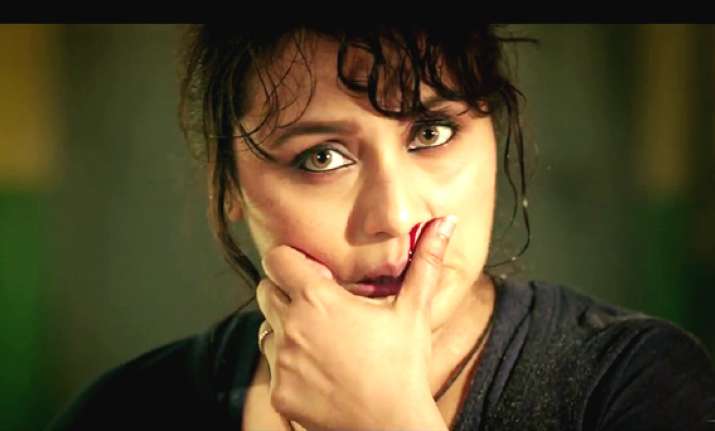 New Delhi: Rani Mukerji is here with yet another powerful character on screen in 'Mardaani.' The trailer of the film that has got out a few moments ago looks terribly impressive and Rani spills marvel with her solid image.
Playing Shivani Shivaji Roy, Rani ruthlessly justifies a bold fearless cop. The dialogues seem uber impressive and Rani's brave attitude has just added to them. Marvelously carved persona, Rani's role in Mardaani is sure hard hitting one as she looks real, strong and not the one to be easily pacified.
Moreover, the film seems to be speaking volumes about Rani's super-woman persona, but the actress at the same time looks evidently natural and rooted to the character.
Mardaani's plot is grounded to a real life child trafficking racket once operational in Mumbai. From the trailer, it is evident that many of Delhi locales have been used in the background, communicating that the girl 'Pyari,' for whom Shivani gets into her action form, might be transported to Delhi as a victim of the child trafficking racket.
The actress who has so far given many powerful insights with her on screen characters, Rani Mukerji drives all the strength and power to justify Shivani Shivaji Roy with Mardaani.
Watch Rani Mukerji's anticipated 'Mardaani' trailer here...     
The heroic Rani appears in full-form as she dares the antagonist saying 'Dekh be under19 team ke 12th man, Pyari ko tere ghar se le k jaugi…par aungi zarur.'
Undoubtedly, Rani seems to be coming with yet another offering showing her brilliant acting prowess. And if we go by the trailer, Mardaani is all set to carve Rani as a stupendous 'hero' and not 'heroine' this time.
The music created by Shantanu Moitra, who has also given music for Rani's 'Laga Chunri Me Daag' appears intense engaging you more in the plot.
Overall, Rani Mukerji's Mardaani is a film that thoroughly translates the atrocities in our society and with actress' super woman image, you are sure to be glued to it.
Directed by Pradeep Sarkar and produced by YRF, Mardaani is slated for release on August 22.