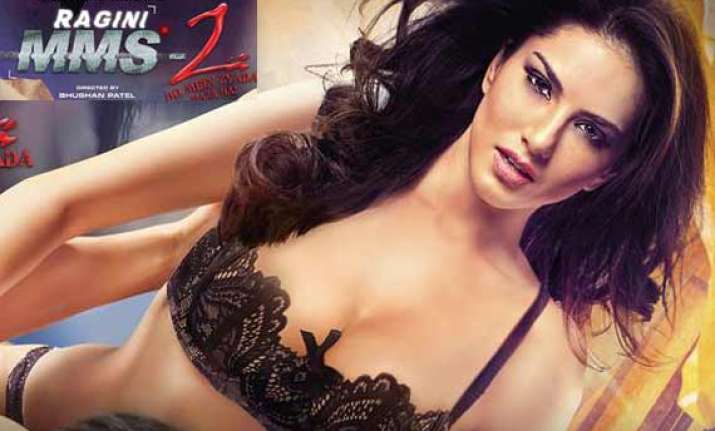 Ragini MMS 2 has more of cheap thrills than genuine ones along with Sunny's oomph quotient which is just irresistible.
It's been years that any flick has been successful in sending shivers down the spine of the viewers. While last year's 3G was a disaster, Ek Thi Daayan had the minimal required element to thrill the audience but still didn't prove as an edge-of-the-seat thriller.
Ratings-
**1/2
Stars- Sunny Leone, Parvin Dabas
Director- Bhushan Patel
Music Director- Yo Yo Honey Singh, Meet Bros Anjjan, Pranay Rijia, Chirantan Bhatt
Balaji Motion who co-produced Ek Thi Daayan, now after less than a year brings back the same genre flick with some sleaziness, horror and suspense in it. Director Bhushan Patel takes the plot similar to the 2011 hit, keeps all the necessary elements intact but the horror genre in taken just extra seriously and so you get to witness every normal activity attached with loud background score, which leaves you in splits.
Ragini MMS which went viral is now a story for a director Rocks (Parvin Dabas) who decides to replicate the entire scandal at none other than the same place where Uday (Rajkumar) made the MMS and was finally killed by the spirit. 
He brings in his crew along with actress Sunny (Sunny Leone) to play Ragini (earlier played by Kainaz Motivala) in his flick. And then, unsurprisingly, the paranormal activities become lively, the hide and seek game once again takes the prominence in the storyline and one by one assassination of each lead become predictable.
Amidst all this, the questions start developing in your mind that why the hell, our onscreen director and the scriptwriter, being aware of the consequences, take the wrong turn to the haunted house? Why the psychiatrist (Divya Dutta) develops curiosity of knowing the history of that house and approaches to help the film crew?
Such hiccups in the script become monotonous which are equally served with some thrills. Some of them are genuine but most of them are cheap and laughable. The horrifying background score which plays a pivotal role in such genre drama are immensely utilized to give you goosebumps.
Even when a cup is kept on a table, a cheap sound attacks you unnecessarily for just being mocked. Doors shattering, curtains flying and the creepy noise of the dead kids are ubiquitous and irritating.
Obviously with each score serving the suspense, your heatbeat counts level up and you wish to close your eyes to avoid the dread just going to surround the big screens and your wits but a micro second stay of the amusing caricature ends up with you giggling.
While there are plenty of it, some of shots are sincerely scary enough. The fear has a face and we come across throughout with Sunny being victimsed mostly. Director Bhushan Patel spends most of time in tagging this movie a horrex and so Sunny serves the purpose. I like the reality that she is a porn star tuned actress in this horror drama, beside her real identity being kept at fore.
The actress is utilized to her true potential and the irresistible skin show leaves you sweating. Her intimacy with three men and a lip-lock with Sandya is a treat to her fans.  
Also there is an upgrade in her acting skills but not to an satisfactory level and hardly we give a damn to it Right! She is 'porno but not Ritupurno' (as Rocks says in the flick). We wish despite,  focusing more on her, had the director given a little effort on the story line and limited the cheap scary tactics, the flick would have been entirely different.  But ultimately it's this fear and Leone who work in this drama leaving limited scope for other actors to excel.
Undoubtedly, you can't take your eyes off from her and we don't need to tell you why.  Sandhya Mridul, a struggler and ready to get hooked is good. She along with Karan Mehra, the lead actor for Rocks' production, provide comic-relief.  Anita Hassanandani and Divya Dutta are equally well in their short roles.
Music by Yo Yo Honey Singh, Meet Bros Anjjan, Pranay Rijia and Chirantan Bhatt is great. Soundtracks like Baby Doll and Chaar Botle Vodka are already the chartbusters.
I'll go with two and a half stars for Ragini MMS 2 which has more of cheap thrills than genuine ones along with Sunny's oomph quotient which is just irresistible.