Follow us on New Delhi: Karishma Tanna and her brawls with co-contestant Puneet Issar have become synonym with the current season of Bigg Boss. Now after the recent fight the lady had with the most senior member of the house, the rage has eventually been taken on twitter too.
While the respective followers of both Karishma Tanna and Puneet Issar are striding the matter in their own way, what has garnered highlight is the tweet from Puneet's daughter Nivriti Issar.
After the unfortunate incident between Karishma and Puneet where the actress called the man 'potty-mouthed,'  Nivriti took it to twitter to express her anger. However, her tweet had not been taken into a sporting light.
Nivriti posted a rather disrespectful tweet for Karishma, questioning the reason on the death of Tanna's late father.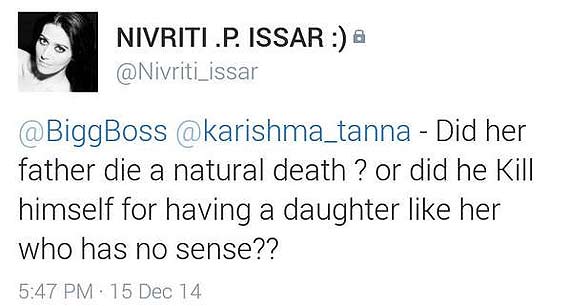 As soon as not only Karishma's supporters, but Bigg Boss lovers came to know about the filth being written on social media, furious comments started pouring in. Here follows a few tweets:
@crazy_for_bebo: What a daughter of puneet ji @Nivriti_issar how could she say about @karishma_tanna father nivriti u should tell to ur dad whats he doing ?
@monikarawal: WTF… Shameful tweet by Puneet Issar's daughter for @karishma_tanna & her dead father. DISGUSTING!!! @Nivriti_issar
@zaheermansuri: @Nivriti_issar ur tweet will drag ur dad out of #BB8 . Aren't u ashamed of urself? Dont behave like ur dad… Think b4 u tweet #BB8
@suni_smruti: #bB8 @nivriti_issar u can hate karishma but giving such a comment proves u r puneet taklu's daughter…parvarish achhi ki puneet ne aapki
Well, we would just like to warn Nivriti Issar that there is life beyond a TV reality show too, and you shall not let anyone question your upbringing!