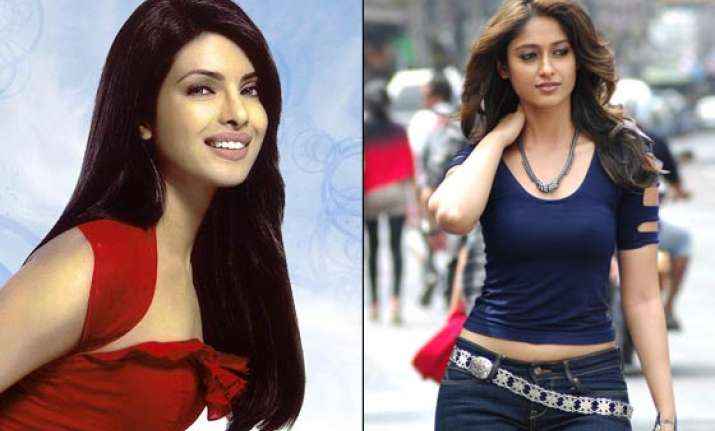 It's a clash of egos down there between the two leading ladies, Priyanka Chopra and Ileana D'Cruz in Anurag Basu's film Barfee. The film's shoot schedule has been postponed because of this, says a media report.

Both the ladies, the report says,  feel that they need to be given more  space.The report quotes a source: "Priyanka Chopra is obviously a huge star in Bollywood and she has a far more challenging role in the film.But Ileana D'Cruz too is a big star down South.

"She picked Barfee as her launch venture because of the producers UTV and the director Anurag Basu who is known to extract super-sensitive performances from his female actors.

"But after seeing how powerful Priyanka's role is in Barfee and also her obvious comfort level with the film's leading man Ranbir Kapoor, Ileana is being warned by her friends that she might be reduced to a has-been like Kangna Ranaut in Anurag Basu's Kites."Obviously,Ileana wants more footage as well as a few extra songs in the film.

After seeing Kangna's role being chopped in the director's project Kites, it's only natural for the South Indian star to get cold feet.So now,unless the issues involving Ileana's position in the film is sorted out, the next schedule of the shoot stands postponed.

Incidentally,the leading ladies have had problems with their role in Barfee from the very beginning.While Priyanka grabbed the smaller but more challenging role of the mentally challenged girl, little did the filmmaker know that he would have to face problems regarding the other more conventional romantic female lead.First Katrina Kaif and then Asin Thottumkal opted out of the romantic lead. Finally, Ileana it was.And now,she too has problems.