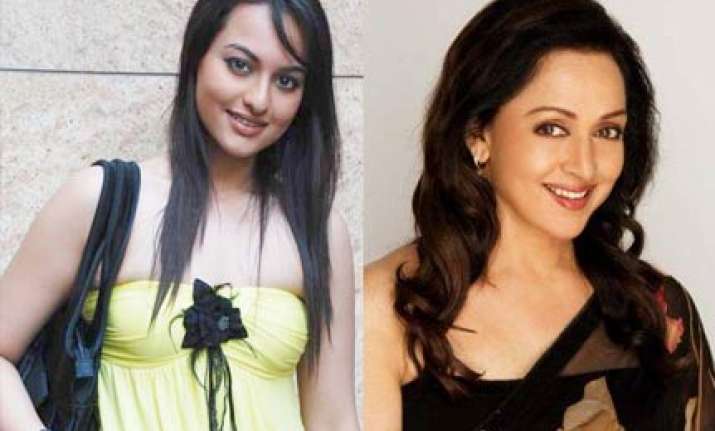 Shotgun's daughter Sonakshi Sinha who has made her debut with Salman Khan in Dabangg says a big NO to nudity and missing on screen.  
Asked by a newspaper whether she resembled Reena Roy, Sonakshi's reply was
 : "Yes, many people have told me that I resemble Hema aunty, Vaijantimala, who to believe I don't know. I just want to look like myself. I think that will happen once I start working when people see my work. It's not that they are comparing me to someone bad. They are comparing me to the best, so I am ok with it."
Q: Your mother just gave a statement, "Maryada paar karne nahi doongi." How far will you go?
Sonakshi: My father is in politics, we have been brought up in a very different way. My father is from a small town, Patna. It's a big deal that I am in films because daughters do not go that way. I will have to be careful about the films that I choose, what I do on screen, how I conduct myself. That's what my mother meant. But she has not got a danda on my head…(laughs)
Q:  That means no exposing and no kissing on screen?
Sonakshi:  Not at all.
Q: You have lost a lot of weight. The transformation from fat to fit is apparent.
Sonakshi: I was anything but fit. Most credit goes to Salman but there were a lot of people around telling me to lose weight. So it started off as a conscious effort to lose weight and maintain my health but eventually when I started seeing the results, I started looking better and I started getting more confident and it translated into what I am today. However my gymming and dieting are still on, they are part of a never-ending process.
Q: You never wanted to enter Bollywood. Why this sudden decision?
Sonakshi: There were no signs of me actually getting into acting, I never thought of myself as an actor. Salman spotted me at Amrita Arora's sangeet, where I was dressed in Indian and where I probably looked the part of Rajjo. So Salman said we have found our girl. And once I heard the script I couldn't say no either.
Q:  Salman Khan is said to be your Godfather and you are in the Khan camp.
Sonakshi: It's too early for me to even get into this. I have just started out, this is my first film. We are family friends, that's all there is to it. He is not going to make sure that I don't do a film outside his banner. 'I don't need a godfather, I have a superstar at home'