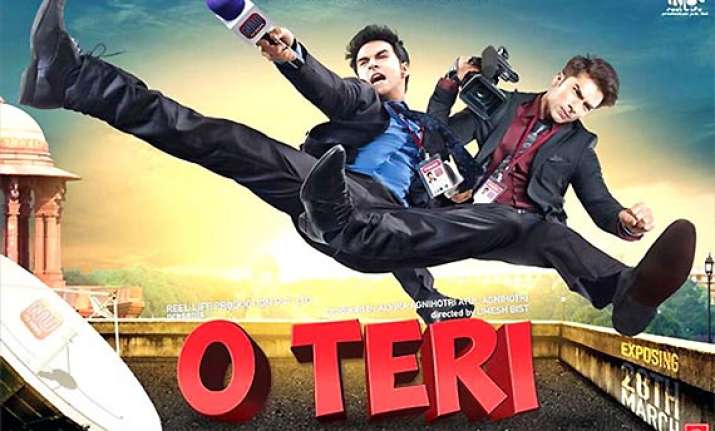 'O Teri' neither bring smiles on your faces nor takes a proper dig at politicians and lobbyists.

Ratings-*1/2Cast:
Pulkit Samrat, Bilal Amrohi, Sarah-Jane Dias, Mandira Bedi,
Anupam Kher
and Vijay Raaz
Director:
Umesh Bisht
Music by:
GJ Singh
Produced by:
Atul Agnihotri & Alvira Agnihotri
When the entire nation is over and done with corruption & scams surfacing every day, here comes a softer side that shows a spoof on yellow journalism.
But mind you this spoof is full of blunders with no sense for the underestimated audience.
Director Umesh Bisht takes a raging issue of scams, the decision of which is pending in court even today but while watching this flick you could assume that it's just an attempt to make viewers realise that it is actually a  satire presented with humour. Unfortunately it isn't so.
The treatment to the narration and unnecessary or forcible inclusion of events destroys the sole aim of this drama. Sometimes you even can't get the idea that whether it's a satire flick or it's about the rise of the two good-for-nothing journalists.
The chain of events comes as a library of short humourous clips which have least relation to the story. A contractor (Manoj Pahwa) visits a dhaba on a scooter and crashes the board of the owner. Next time he is on Maruti 800 and the other time on BWM to repeat the same activity. With all these sick activities it's hard to find any proper conclusion.        
Although, you are addressed to the Asian Games scam alike Commonwealth, lobbying, media exposure, sex scandals among others, but all are ineffective and smolder in air. Even if you peek into the comic department you don't even get a decent punchline.
Prantabh Pratab a.k.a P.P (Pulkit Samrat) & Anand Ishwaram Devdutt Subramanium a.k.a AIDS (Bilal Amrohi) have few scenes to excel in but those become as irritating as their short names.
They are the strugglers in the field of media and are in search of some big story to impress the editor-in-chief of the channel, Sarah-Jane Dias. Even when they have a big opportunity, of exposing the big scam, knocking their door, the two are still incapable of making big out it.
While Anupam Kher, as the chief of the games organising committee, tries to prove a cunning man, Lal Kilol
(Vijay Raaz), the leader of the opposition is just looking for an opportunity to lose his temper by breaking down his cell phones.
What disturbs us big time are the songs which didn't deserve any place in the story but Umesh inserts them to cheer the sleeping audience, but these just bore them.
Avoiding all these, along with a little emphasis and proper demonstration of the insight story of the scam could have saved this flick at large.
Despite good actors in the flick, the director isn't able to take off well. Pulkit is just the same 'Fukrey' guy in this flick. He has some scenes to praise but nothing extraordinary. Debutant Bilal Amrohi, opens with his
Salman Khan
figure and does well too.
Sarah Jane Dias doesn't have anything except to shout and insult her two workers.
Anupam Kher, Vijay Raaz and Mandira Bedi are good but aren't capitalized to their true potential
Music by GJ Singh is good, but as aforesaid, the songs spoil the flow of the already disturbed drama.
I'll go with one and a half star for 'O Teri' which doesn't even bring smile on your faces nor takes a proper dig at politicians and lobbyists.