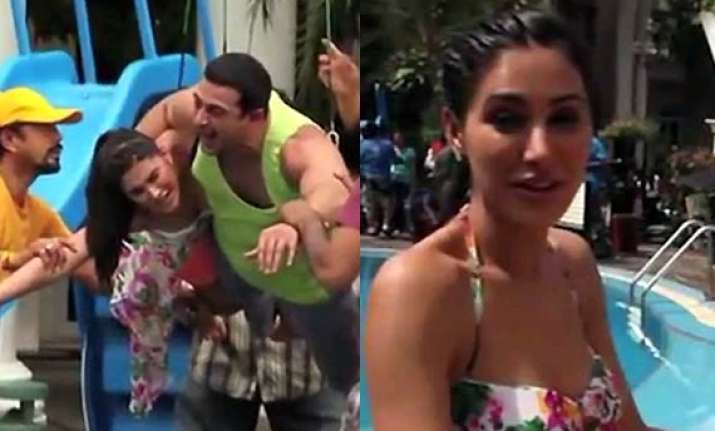 Balaji Motion pictures have released a behind the scenes-mkaing video of their recently released movie 'Main Tera Hero' starring Varun Dhawan, Ileana D'cruz and Nargis Fakhri.
In the video, while shooting a pool scene, Nargis Fakhri was seen screaming expletives and she said that she was scared and expressed her terror.
Laughing in embarrassment Nargis explained, "I was in terrible pain and I was on only half a harness. For the rest of the support, I was supported by my co-star Arunoday Singh in mid-air.
"Arunoday is a dear friend and someone I've known from the time I came to India. He's a great guy. I know I can depend on him. I was expressing my terror. Why that was turned into a video for public consumption, I don't know. I don't understand."
Nargis is heard using four letter words in the video.
She protests, "I've heard other actresses abusing. Quite a few of them have interesting mouths. But they make sure there are no cameras to capture their candid moments. I still have to master the image thing. Sometimes I feel I am an alien in Bollywood. I am living the way I want to. I am glad I don't have to lie and pretend."

Watch video here...