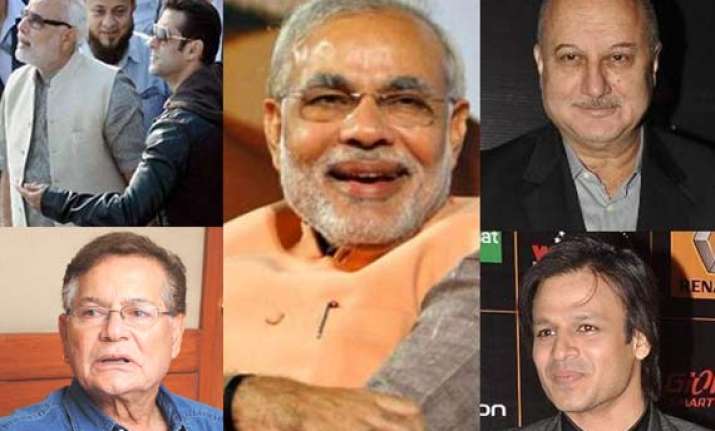 New Delhi: Bollywood A-listers are all set to witness one of the biggest functions at Rashtrapati Bhawan today. Superstar Salman Khan along with father Salim Khan, brother Sohail Khan has arrived in Delhi to attend Narendra Modi's swearing-in ceremony.
Salman, who flew kite with Modi during a festival in Ahmedabad for promotion of his film 'Jai Ho' earlier this year is in Delhi to attend the event.   
Modi, who led BJP to an unprecedented victory, is taking oath as the 15th prime minister of the country at a function to be held in the forecourt of Rashtrapati Bhavan in the evening.
Bachchan, Rajnikanth, Salman and 84-year-old Lata's names reportedly figure on the guest list.  
"She has been invited, but she won't be attending the swearing-in ceremony as she cannot travel at this age," sources close to Lata Mangeshkar told PTI.  
According to sources, Big B is busy shooting.  "He is busy shooting. Don't think he is going," sources said.
Bachchan tweeted about two hours ago that he was going for a shoot.
"Ok... off for the shot, its ready... cannot keep the crew waiting... love to all... see you later in the evening or night or early," the 71-year-old actor tweeted.  
Among the Bollywood personalities who will be attending the ceremony are Kher, Oberoi and Madhur Bhandarkar.  
Actress Rekha and cricketing great Sachin Tendulkar from Mumbai have been invited for the function in their capacity as members of Rajya Sabha.
The BJP has a galaxy of film stars like Hema Malini, Paresh Rawal, Shatrughan Sinha, Vinod Khanna, Kirron Kher and Smriti Irani as members of the party, who will be there.