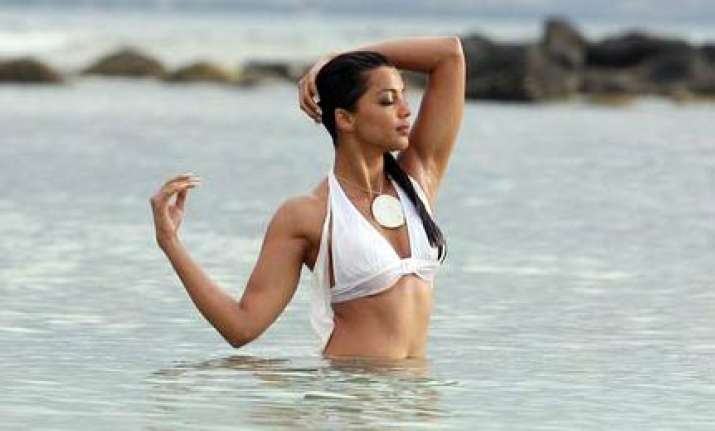 New Delhi : She did not come to walk the ramp, nor to attend any show. Bringing in the first Bollywood quotient on the third day of the ongoing Spring-Summer edition of the Wills India Fashion Week, actress Mugdha Godse stopped by to get a hair makeover done here. 
Celebrity stylist Sapna Bhavnani gave the 'Fashion' star a brand new hairdo - Mugdha's hair was gathered up in tight rolls at the crown of her head and a hair accessory in the shape of a huge bow was fitted onto it at the Fiama Di Wills lounge here.  
"I am here to introduce the new Spring-Summer look styled by Sapna Bhavnani. Its all about looking and feeling young. You put on simple make-up and wear a nice accessory and get a fresh look this season," said Mugdha, dressed in a dark grey zipped dress and matching wedge heels.  
She also said she is very particular about hair care and only uses gentle products for her tresses.  
"My hair is very soft so I use gentle products. Among natural ingredients, I use aloe vera for my hair," she said.  
The model-turned-actress, who was at the previous edition of WIFW to promote her film 'Jail', said she would love to check out the stalls and the new designers this time.  
Mugdha is gearing up for the release of her next film 'Will You Marry Me' which is slated to hit theatres in December this year.  
When asked whether she is open to doing item numbers, Mugdha said, "It depends, I will do it if I like, but you may not see me in one anytime soon as I am yet to be offered one that I have wanted to do," said Mugdha.