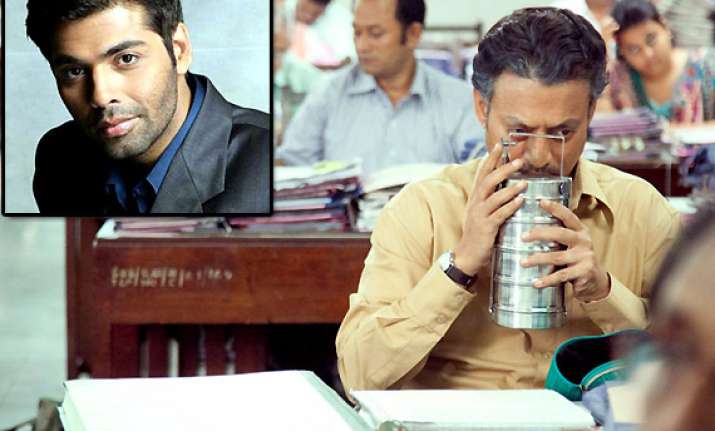 Mumbai: Filmmaker Karan Johar wishes to have a love story like the one his lead actors Irrfan Khan and Nimrat Kaur have in 'The Lunch Box'.
The film, directed by Ritesh Batra, stars Irrfan Khan, Nimrat Kaur and Nawazuddin Siddiqui in the lead and revolves around a wrong delivery by dabbawala (lunchbox service) which leads to a relationship.
"I wish to have a love story like Irrfan and Nimrat Kaur in the film.  My love story is there only with my mother as of now. I have been waiting to get a lunch box (from a lady)...I hope it comes," Karan told a press conference here.
"I weighed 150 kilos when I was in school. I never shared my lunch box with anyone as my mother used to give me delicious food with amazing dessert, especially brownie. I had no friends as I never shared my lunch box. It was my principal who asked who would like to be friends with me and Apoorva
Mehta (CEO of Dharma Productions) raised his hand...that is how I met my best friend," he said.
The film will be presented to desi audiences by Karan Johar and UTV, in association with Dar Motion Pictures and the National Film Development Corporation. It hits theatres on September 20.
"Today different kinds of films like 'Barfi', 'Vicky Donor' are accepted by the audience. We at Dharma Productions would like to support good films be it small or big. When I saw 'Lunch Box', I wanted to be associated with the film. I feel proud that my name is added to this film as I don't have
the capability to make a film like this," Karan said.