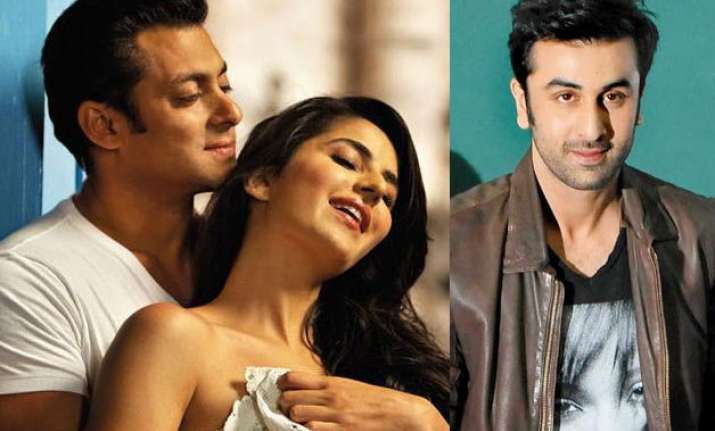 New Delhi: Ex-flames Katrina Kaif and Salman Khan were once the most adorable couple of tinsel town. Salman Khan was very serious about his relationship with Katrina, so much so that things were getting serious for a marriage.
Alas! It didn't happen.
Much like all the girls in his life, Katrina Kaif left Salman Khan and moved on with a younger superstar Ranbir Kapoor.
But looks like she has not forgotten her love, after all!
At a recent conference, Katrina Kaif compared Ranbir Kapoor to Salman Khan. Ranbir Kapoor's stars aren't shining brightly and the star who was one of the most bankable actors has delivered a series of flops with Besharam, Roy and Bombay Velvet.
When reporters asked about her and boyfriend Ranbir's discussion about the drowning ship of Ranbir's career, she said she would like to keep it away from the press. "Whatever he might have shared with me, I don't think he wants me to share it with you, so I will have to keep that bit to myself," she said.
Flaunting her sweet relations with Kareena Kapoor she added, ''But I think Kareena is right in saying that every actor must see struggle and must go through ups and downs only than you really appreciate what you have that will make you a better and stronger person.''
And then much to everyone's surprise she mentioned Salman Khan. ''I know Ranbir loves his audience and he lives and breathes his films, no one can challenge his passion and commitment. It has happened to everyone's career, it has happened to Aamir Khan, Shahrukh Khan, Salman Khan, very much so in Salman's case," Katrina said.
Well, let's see if Ranbir's career also bounces back just like Salman's did.