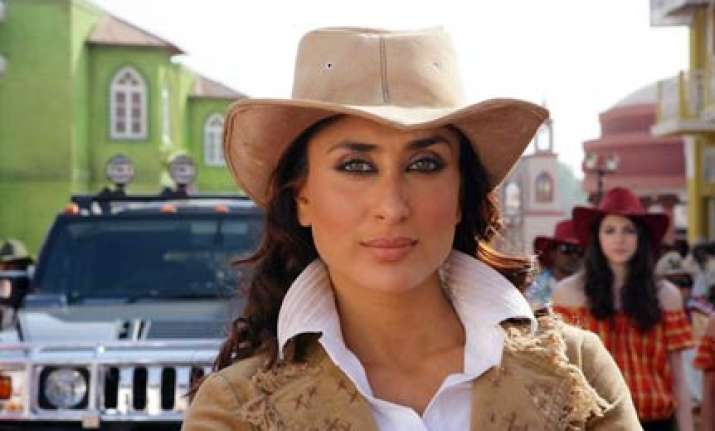 Kareena Kapoor will be playing a tomboy character for the first time on Golmaal 3, being directed by Rohit Shetty, says a media report.
It is learnt that the director was writing the story, he decided to give Kareena's typically glamorous image a break in the film and offer her an unusual part. He didn't want her to do the glam doll act once again. He wanted her to be part of the gang of boys comprising Ajay Devgn, Arshad Warsi, Tusshar Kapoor, Kunal Khemu and Shreyas Talpade.
The source reveals, "Kareena will sport casual wear in the film. No designer dresses, shoes and bags for her. She will play a badass who spouts abusive tapori language and rides around on a bike. She will be seen doing dadagiri like boys in gangs."
Bebo admits, "My look in Golmaal 3 is non-glamorous. It's young and grunge and keeping the weather and look of Goa in mind. I play a tomboy but with a feminine touch. Though I will be using tapori language it won't be too abusive or vulgar. It will be in keeping with my persona."
Shetty adds, "I wanted to give Kareena a new image in Golmaal 3. She's 'one of the boys' in the film, and will sport minimal make-up. She is talking with Manish Malhotra and they will come up with the right look for her part. I have tried not to make her use too much foul language or abusive lingo. Her whole look and hair will be undergoing a thorough change. Her character in the film is not that rich. We are all looking forward to teaching Bebo some exciting language. She's already become one goonda now!"
Manish Malhotra says, "I feel that whenever Bebo plays a real character she does it the best (like Jab We Met or 3 Idiots). The look for Bebo is a believable one with simple clean lines. I will pick up some clothes for her in Bangkok and Dubai for her. She will be wearing summer tops and T-shirts. In fact, I will be designing and creating some special T-shirts for her. Rohit didn't want jeans or shorts but drawstring pants in ivory or white. It's something like Amanda Seyfried sported in Mamma Mia! - Mediterranean casual chic."