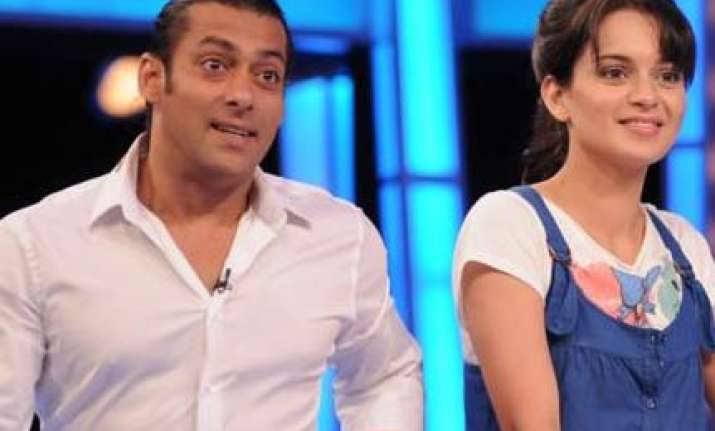 A Mumbai tabloid reported that Salman Khan chose not to invite Kangna Ranaut to his fashion show last week. This week, he's put his film opposite her on hold. Rumour has it that Sonakshi might replace her, says the report.Kangna's dreams of starring with Salman in his home production, what was to be directed by Mahesh Manjrekar, have been dashed, at least for the time being.  
It also points to a larger fallout between the two, said to be close to each other in the recent past. But not only was Kangna not invited for Sallu's well-touted 'Being Human' show  last Saturday, but the superstar has put his home production with her in the female lead on hold indefinitely. The film is a Hindi remake of Manjrekar's Marathi film Mee Shivajiraje Bhosle Boltoy.
The only consolation for Ranaut is that she remains a part of the film, at least for now. "The script is undergoing some changes. Moreover, a few other members of the cast have also been changed. Salman himself is supervising the details," says the source.  
Another reason why Manjrekar's film co-starring Ranaut is not Salman's first priority at present is that Salman is going to be very busy with the TV show Bigg Boss 4 and two films, Kick and Bodyguard. "Both Kick and Bodyguard are very big films and Salman is not going to let his fans down," said the source.  What makes this doubly awkward for Kangna is the buzz that Sonakshi Sinha might replace her in this film.  
When contacted, Manjrekar did not confirm that Ranaut stars in his film for Salman.
He simply said, "At the moment, I am not in Mumbai. Dekhte hain kab shuru karenge meri film. Why can't it be that Kangna stars in the film? It's not Sonakshi, but then, at the end of the day, it is up to Salman to decide and divulge."Kangna has not even been informed of this delay. A close friend of Kangna's said, "She really does not wish to comment on any of this."