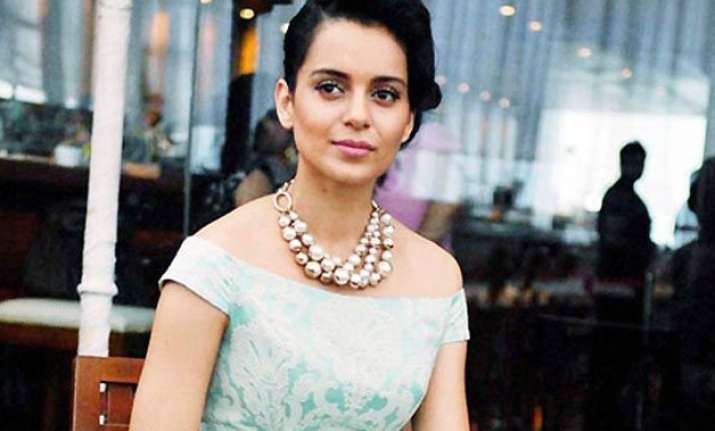 New Delhi: Kangana Ranaut was in the news a few days ago for the horse riding lessons she is taking for Vishal Bhardwaj's next Rangoon. The actress is glad all her hard work will come in handy when she starts shooting for Ketan Mehta's biopic on Rani Lakshmibai.
Rangoon, which is a period film, also stars Shahid Kapoor and Saif Ali Khan and is set against the backdrop of World War 2. The actress will be playing a 1940s movie star in this extravagant love triangle. To achieve perfection for her role she visited New York to understand the performers and will also be learning ballet in Argentina. Seems like Ranaut is sweating too much for this movie as she is also supposed to learn horse riding and sword fighting!
But, she will hit two birds with one stone.
In Ketan Mehta's next biopic on Rani Lakshmibai, Kangana is happy she can use the skills learnt. She is looking forward to the role of the freedom fighter and said, "It's a beautiful story, one I haven't been able to disassociate from since I heard it. I'm looking forward to playing a mother and a warrior on screen. It's such a fabulous role that as an actor I don't know what I'll do next."
Though the actress wishes to visit Japan on a vacation, it will be difficult for her. She will be too busy with Hansal Mehta's Simran. Simran according to her is a challenging movie and will let her push her boundaries as an actor. Talking about her character, which was allegedly inspired by Sandeep Kaur, an Indian girl who went to California and indulged in criminal activities, she says, "I do play a bank robber in the film. The story is inspired by real life incidents but not directly by Sandeep Kaur. It's about a Gujarati girl who dreams of making it big. She sets out to fulfil her mother's dream but ends up losing everything."
Kangana Ranaut worked with Amitabh Bachchan a few days ago in a commercial directed by Rajkumar Hirani. Recalling that project she says, "It can get really nerve-racking when someone thinks so highly of you as a performer and has so much regard for you. I confided to Raju sir (Rajkumar Hirani) that I have never been so nervous working with any other actor. But Mr Bachchan, he's very childlike on the sets, he chats up everyone and that relaxed me."
She also added that she wants to do a movie with Big B, "I hope some day we get to do a film together. Even Raju sir is keen to work with me and we're looking at scripts."
Katti Batti, Kangana Ranaut's next release where she will be romancing Imran Khan, is a very special love story according to her. "I just don't focus on scripts that glorify me as an actor. It's intoxicating when you get these central characters. I want to do films I believe in," she asserts. Katti Batti will release on September 18th.