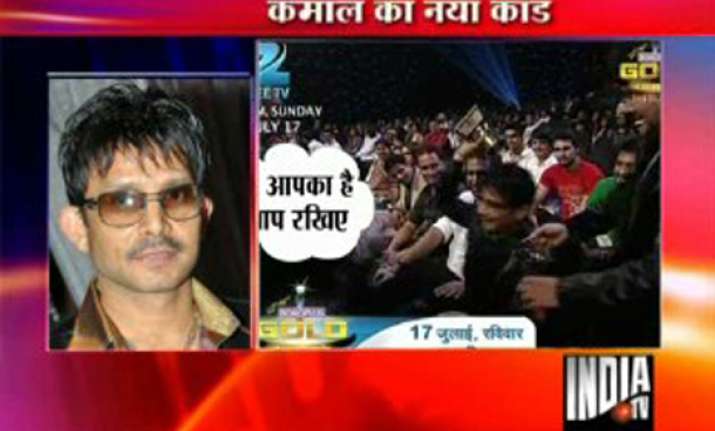 Mumbai, Jul 12: Bollywood actor Kamal R. Khan threw away the Golden Balti Award for Lifetime Achievement at the Zee Gold Awards function, which will be telecast this Sunday on July 17. 

In a telephonic interview from Dubai to India TV, Kamal Khan, who has acted in the film Deshdrohee, said, he did this because he was incensed at being made fun of at the awards ceremony. "This was sheer foolishness. I threw away the Golden Balti, but I did not insult anybody".

Kamal Khan however admitted that he had taken part in the Bigg Boss reality show, but he was never a TV actor and these awards were meant for TV actors.

As the show hosts Ali Asghar and Suresh Menon approached Kamal Khan to give him the Golden Balti award, a furious Kamal took it and threw it on the floor to the consternation of all. He then marched off followed by his menacing bodyguard from the function. 

Before throwing the Golden Balti trophy, Kamal Khan lashed out at the hosts saying he was not a TV actor and these awards were meant for those who acted in TV serials. Kamal Khan gave a tongue-lashing to the show hosts saying they were "Do Rupaye ke Joker".

The usually abrasive Kamal Khan defended himself saying that he described the hosts as "jokers" because after all comedians are jokers.