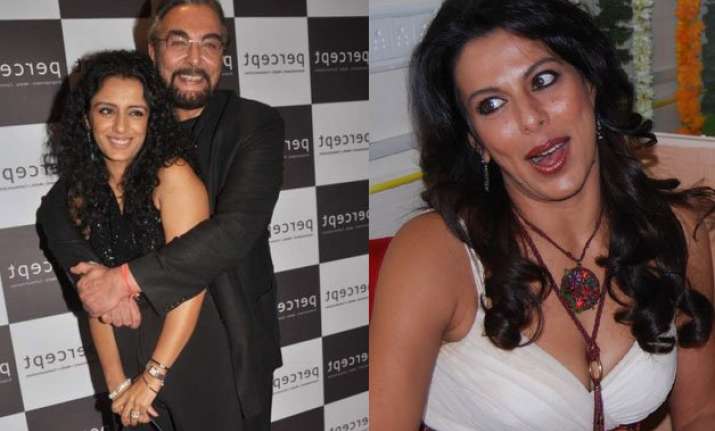 New Delhi: The Valentine's Day is around the corner but it seems that the cupid has gone weak in B-town because all we hear these days are celeb couples getting separated or divorced.
However, amidst all these break-ups, there is this one relationship that is grabbing a lot of eyes.
Not its not of Deepika Padukone and Ranveer Singh.
Instead, we are talking about the newly wed couple Kabir Bedi and Parveen Dusanj.
Kabir married Parveen a day before he celebrated his 70th birthday this month and their wedding became the talk of the town because of war of words. Kabir's daughter Pooja Bedi started a battle with her father after he wed Parveen.
Pooja had accused Parveen of ruining the father –daughter relationship and has presented her as an 'evil step-mother'.
But it seems that Parveen has decided to clear the air about these allegations and stated that she has nothing to do with the ongoing fight between Kabir and Pooja Bedi and that she is being made a scapegoat.
Although Parveen is quite hurt with Pooja's comment on her, she has decided to ignore it as much as possible.
"If one person wants to rain on my parade, I choose to ignore it. It's hurtful, of course, but I have been raised to be grateful for what I have, and that is helping me ignore this," Parveen told a leading daily.
Parveen also opened up on the couple's sudden announcement of their wedding stating, "It was Kabir's 70th birthday on January 16. His son Adam [from his second wife, British-born fashion designer Susan Humphreys] and his wife Melissa came down from Los Angeles, his sisters were there and my whole family was down from London too. Since Kabir had asked me to marry him on bended knee at the Spanish Steps in Rome almost five years ago, and I had said yes then, we decided to make everyone happy and take the plunge spontaneously. Though we didn't need to... We were happy just the way we were".
Parveen is Kabir Bedi's fourth wife and married him after dating him for around a decade.